Focused on a single page and a single intent –generating a sale – landing page websites are designed to draw users into using the product or service, creating a user experience that's almost tactile. All superfluous details are left aside. These single-page parallax website templates are created in HTML or HTML5 with CSS3 animation or JS animation to pique viewer interest yet keep the site lightweight and quick loading. Easily customizable, responsive, clean, flat and minimalist design, cross-browser compatible. Used by businesses, entrepreneurs, freelancers, restaurants and many more to sharpen their marketing focus and lead to sales.
Racer – Car Racing Landing Page Template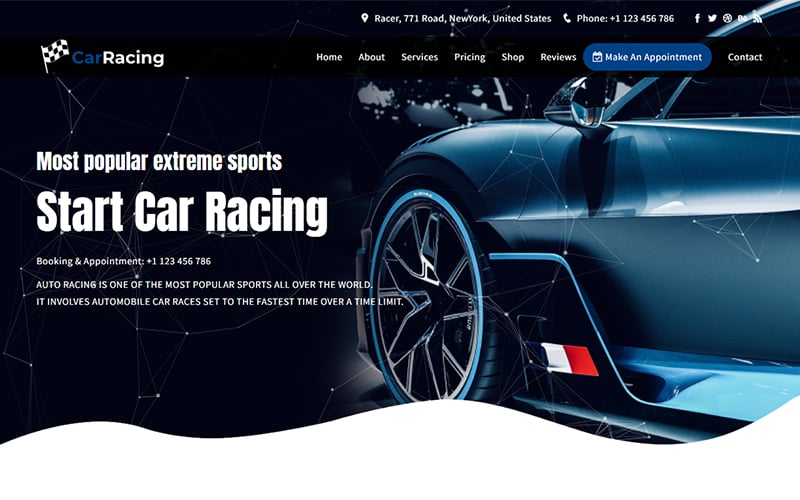 This racecar landing page design features a homepage slideshow with animations and a wave border that calls to mind a waving flag, gorgeous images of cars in different kinds of races, a simple smart layout in white and blue with racecar imagery, statistics and testimonials, a call to action banner asking people to book now, and ample space for showcasing sponsors' logos. A Contact Form for user interface, against race flag imagery and an illustration of a service support person is included to make this the complete racecar landing page website template for you.
Wink – Multipurpose Portfolio 3D Template
Create your own personalized avatar with this 3D animated portfolio template. You're sure to stand apart.  Designed with dark, futuristic, retina-ready, mobile-friendly, material design features, the template uses JS and Canvas animation. Just right for freelancers and self-employed professionals such as photographers and designers who want to make an impact and win over a potential client or employer. Easy to customize, this single page parallax website has everything you need to communicate your skills and services. The AJAX form is connected with a PHP Mailer which sends encrypted data to your Gmail account.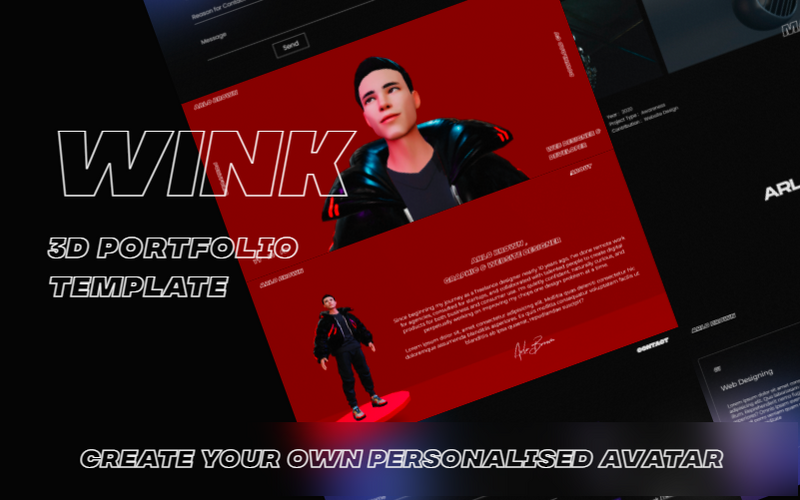 VICTOR – Modern Unique 3D Landing Page template
This unique 3D Company Landing Page or Portfolio  HTML website gives you awesome 3D effects on text. The text is easily customizable with clean code.  Change the colors according to your fancy.  You can even add more of the special effects if you like. Our easy-to-read guide makes template customization simple for you. Pixel perfect design and ease of modification lets you play around with elements and create an immersive experience for your customers.    Check out our demo and don't miss out!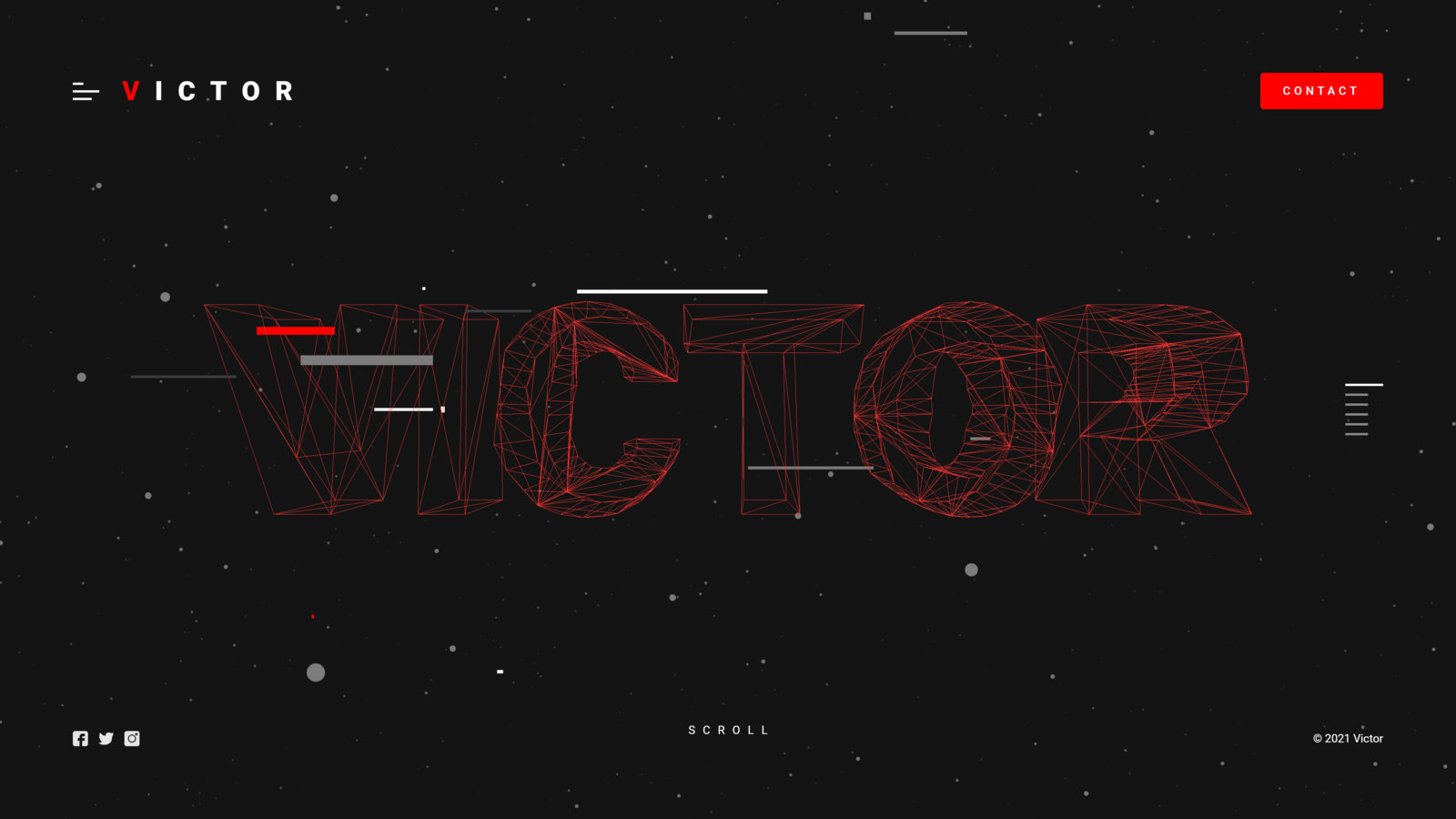 Car Responsive Landing Page Template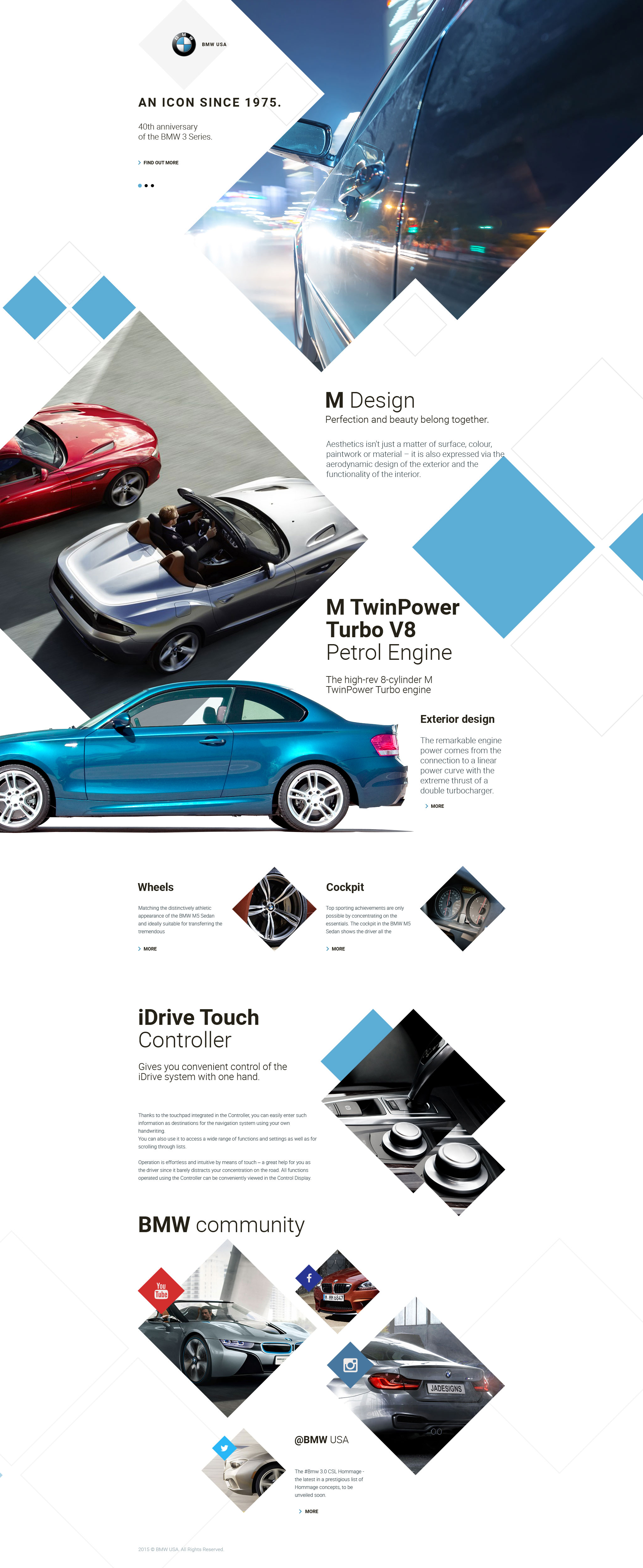 Restaurant landing page template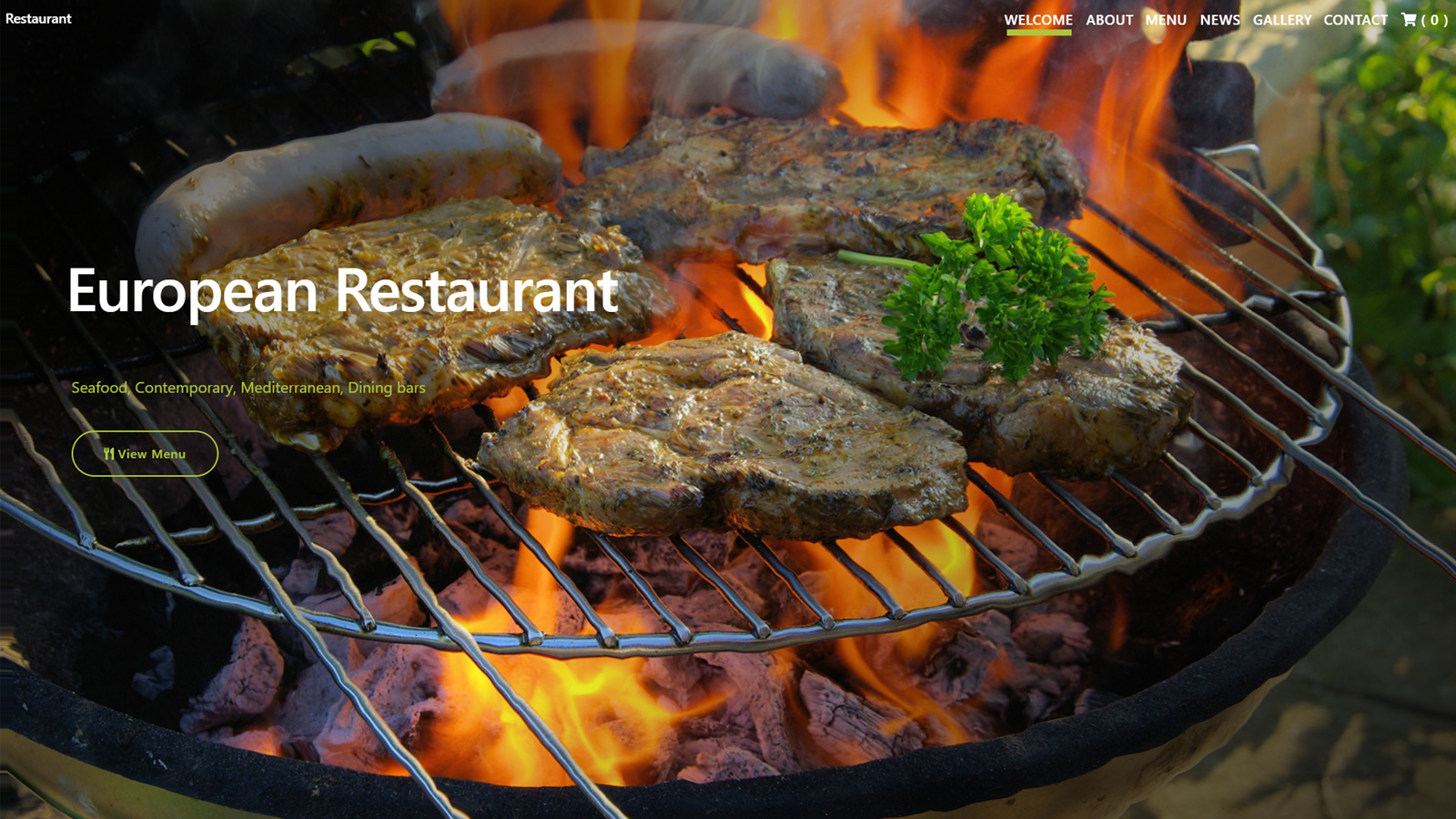 This Restaurant / Food Delivery HTML Site Template with parallax is designed in a clean, minimalist style that adds finesse and class. You can almost smell the aroma of the food in the appetizing homepage slide with JS animation. It has all the essential ingredients of a restaurant website, an About section, a Menu section attractively displayed, a News and Gallery section and a Contact form.  The customer can also fill a Form and order directly from the restaurant or delivery service for free home delivery.
What more can you ask for?
Skygency – React Vue HTML and Figma Agency Corporate Landing Page Template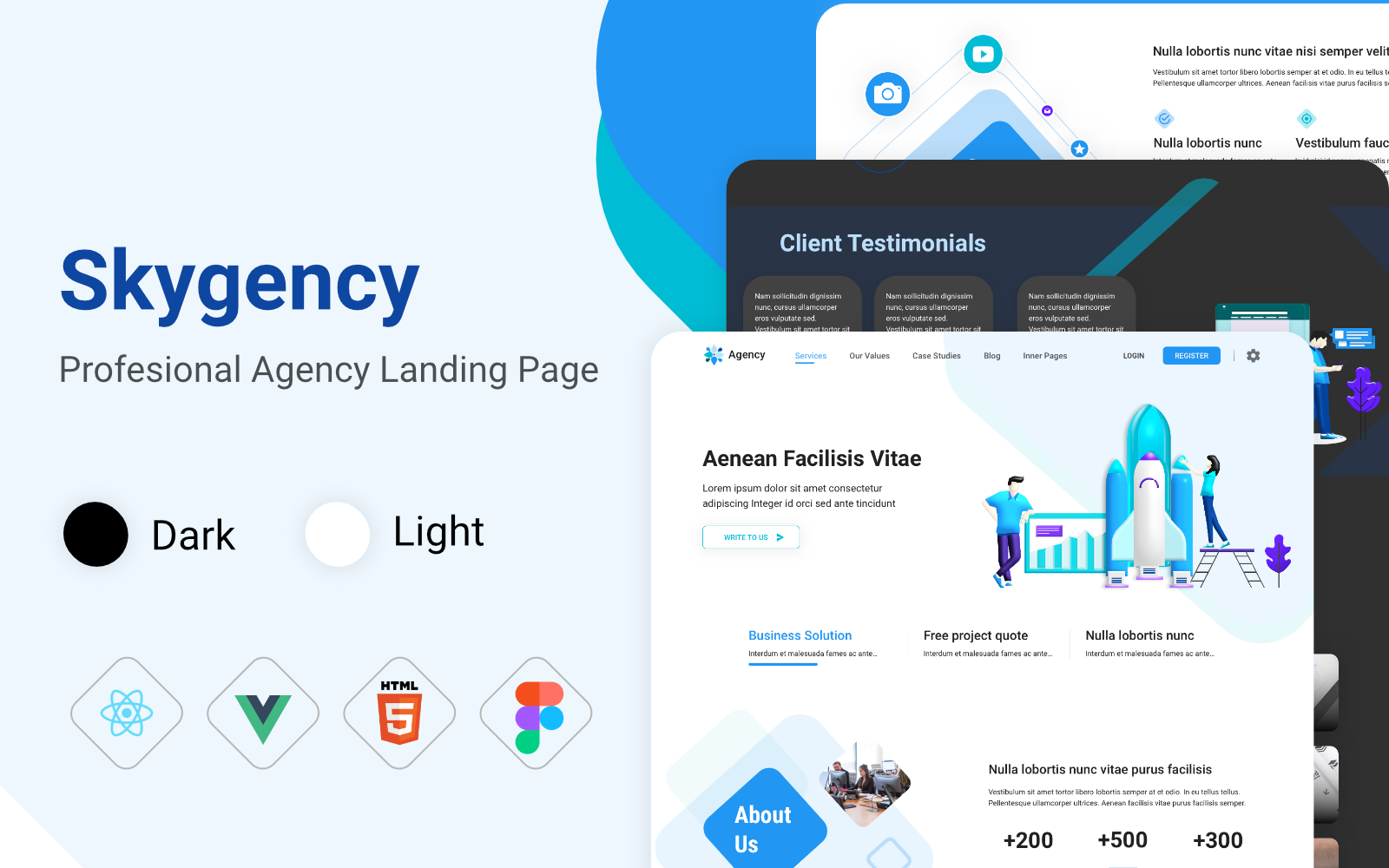 Take off into excellence with Skygency Corporate Landing Page Template.   You can use this versatile template as a multipurpose business landing page and company profile template.
Visually pleasing animations, eye-catching text boxes to highlight important information, parallax scrolling, images and banners in a neat layout using white space to maximum effect, make every element in this business landing page work well to draw customers into your business and marketing experience.  Ideal for marketing and advertising agencies, sales companies, product sales and more.
SRK – One Page Parallax Landing Page HTML Template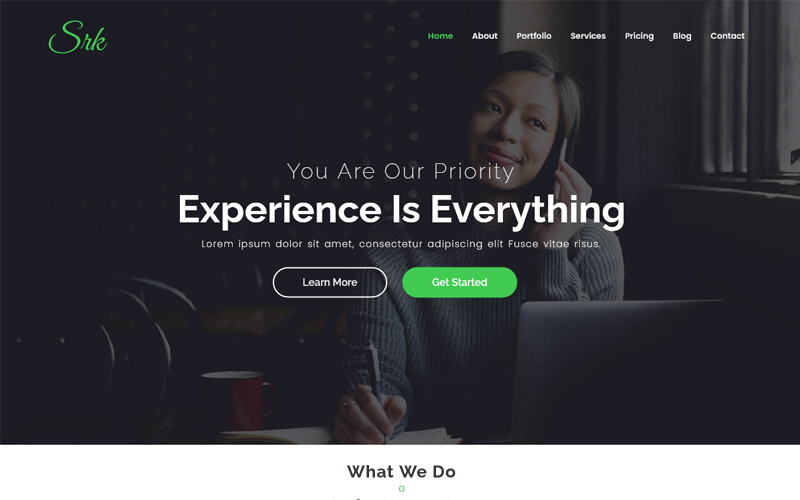 This landing page template provides a variety of design options to choose from for the home screenshot, from animation to slideshow to water fade effect.   This one page website with clean design and parallax scrolling has all you could wish for in a modern look for your business website, as well as the functionality you expect.
Rasid – Photography & Videography Landing Page Template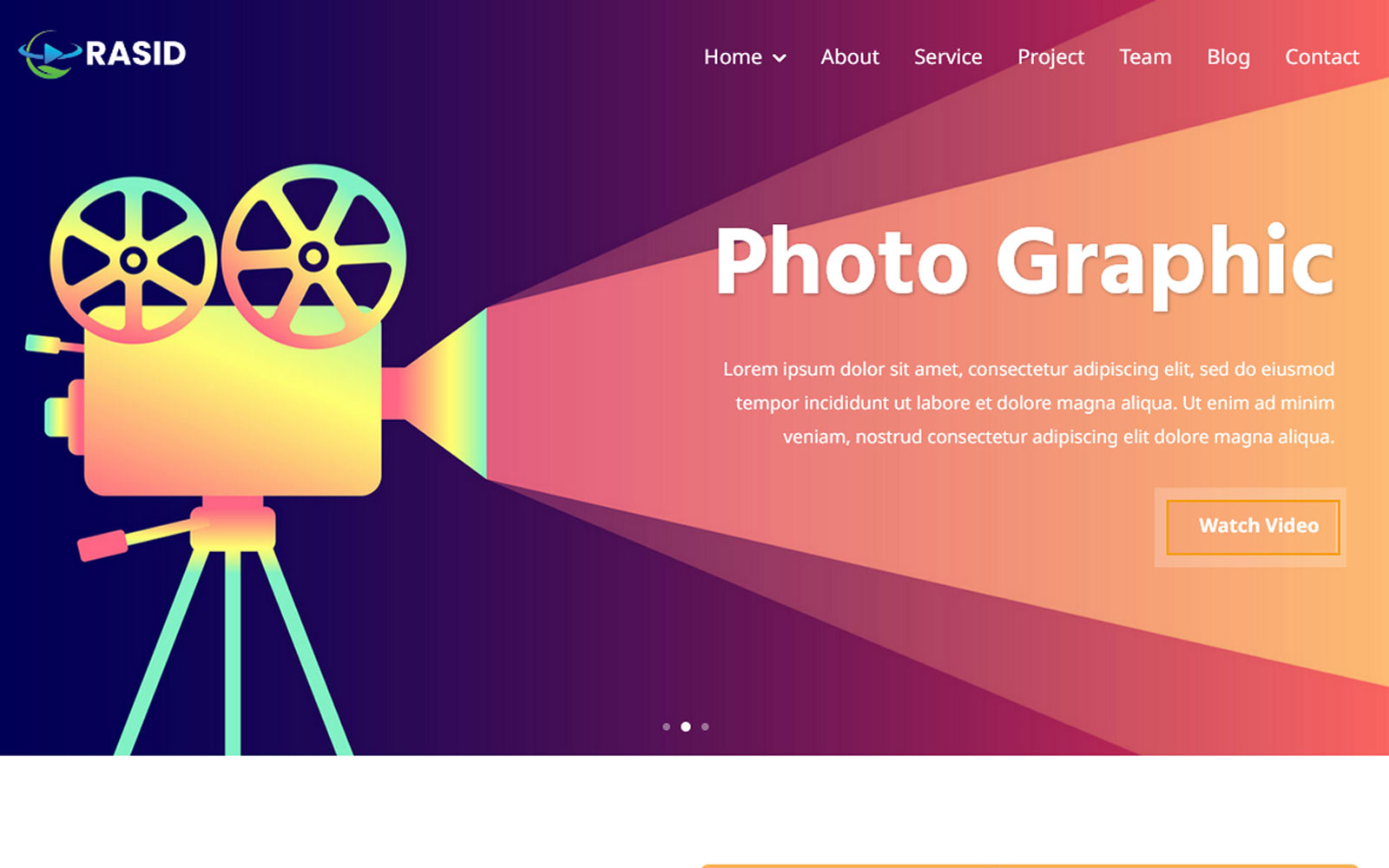 This landing page website template features eye-popping colors and graphics in the homepage slider,   attractive video demo graphics and demo video, images and colorful icons with parallax scrolling and a clean, dark, minimalist layout that is sure to please the artistic mind.  Whether you're a studio, a film-maker, a photographer or freelancer, this is a creative, easy-to-use single page portfolio website for you to showcase your work and market your services.
Jewelry and Diamond Collection Landing Page Template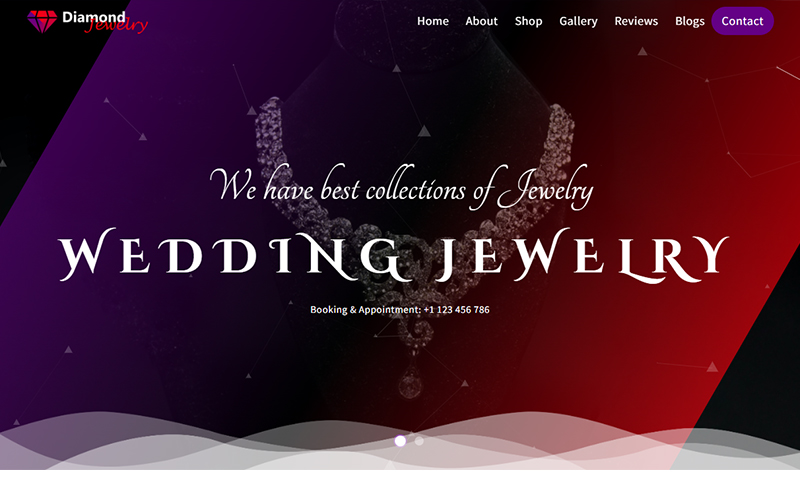 Designed to showcase and sell jewelry, this landing page template has a show-stopping Homepage slideshow with CSS3 animations, parallax scrolling, Shop with slider and rich images, Gallery viewed by product, Testimonials in a banner. You have it all.
Perfect Shape – Gym Landing Page HTML Template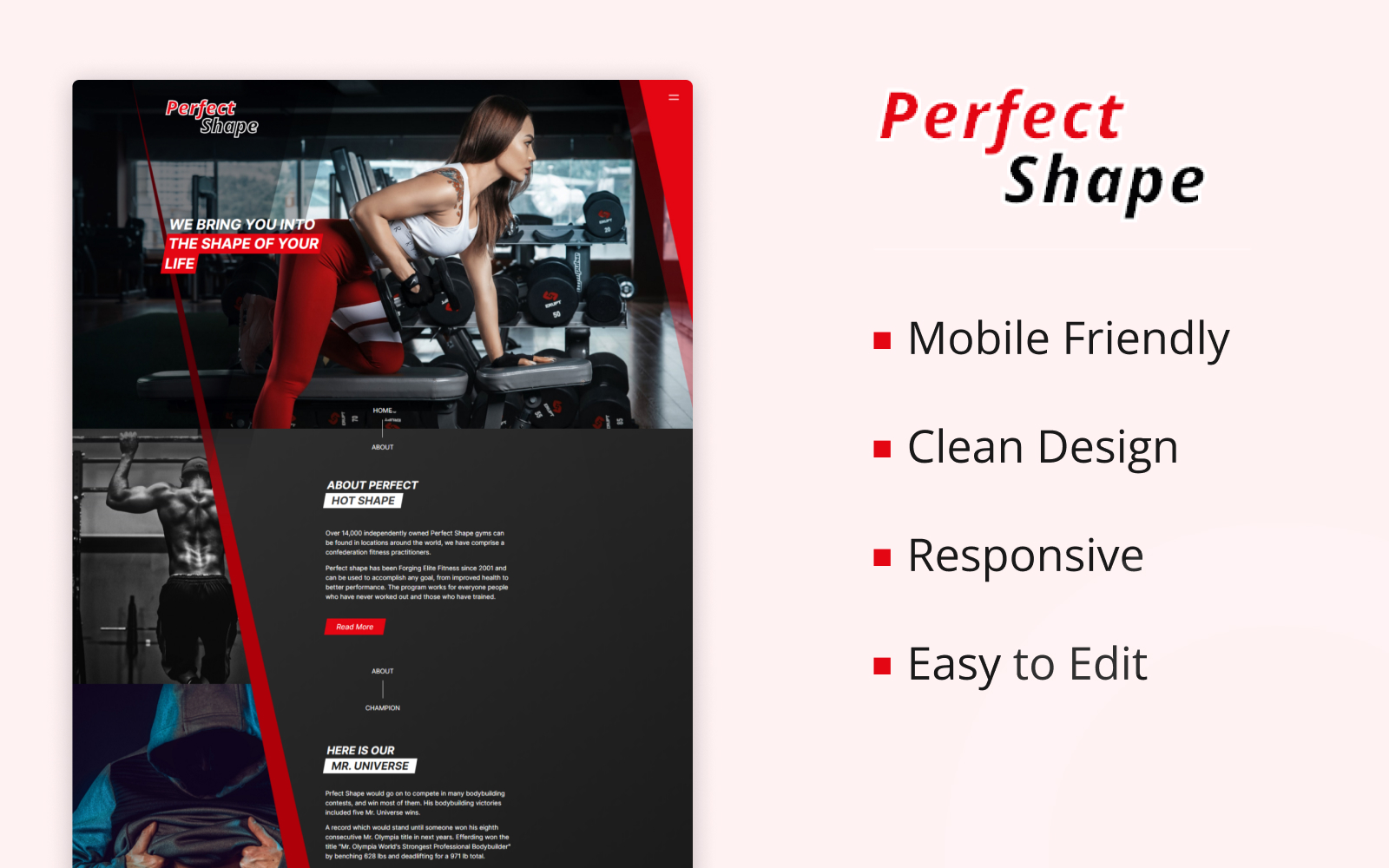 The homepage image  is eye catching in full color in contrast to the dark design of the rest of the template. The menu slider is customizable with six bright colors. The clean, minimalist design uses flat, dark, geometric elements in contrast with color on the homepage for a contemporary look.  The template is mobile friendly, responsive, easily editable and cross-browser compatible. HTML5, CSS3, JavaScript codes included.
Blue is a different , unique, modern , responsive and creative landing page template made specially for Art related businesses and is best suited for painting companies, artist or painters can also use it as a personal portfolio website to demonstrate their work
This landing page template is best for people who are running a painting or coloring business such as wall painting, home painting or making personal sketches or for individuals who are self-employed artist or designer, Blue also comes with cross browser compatibility and is made for all the scree sizes.
These are just a few of our Landing Page website templates.  Browse many more from our collection at Entheos.
Buy now to get started on a winning website that will bring customers to your business or service!