Color palettes, textures, fonts, grids, rollover effects, white space, large backgrounds, transparent panels, animations, blurred backgrounds,  photographs, illustrations, icons, circles, diamonds, diagonals – all these web design elements and more are used in tasteful ways to make web template a cut above the rest while staying functional and user-friendly.
Template 49656 – Beauty Salon Website Template 
This beauty salon website template has an upmarket look on a shaded blue background. Photos on a grid are placed against a large photo backdrop. Interesting rollover effects on the text squares categorizing the gallery catch the attention and lead  the viewer to the wide range of services provided by the salon.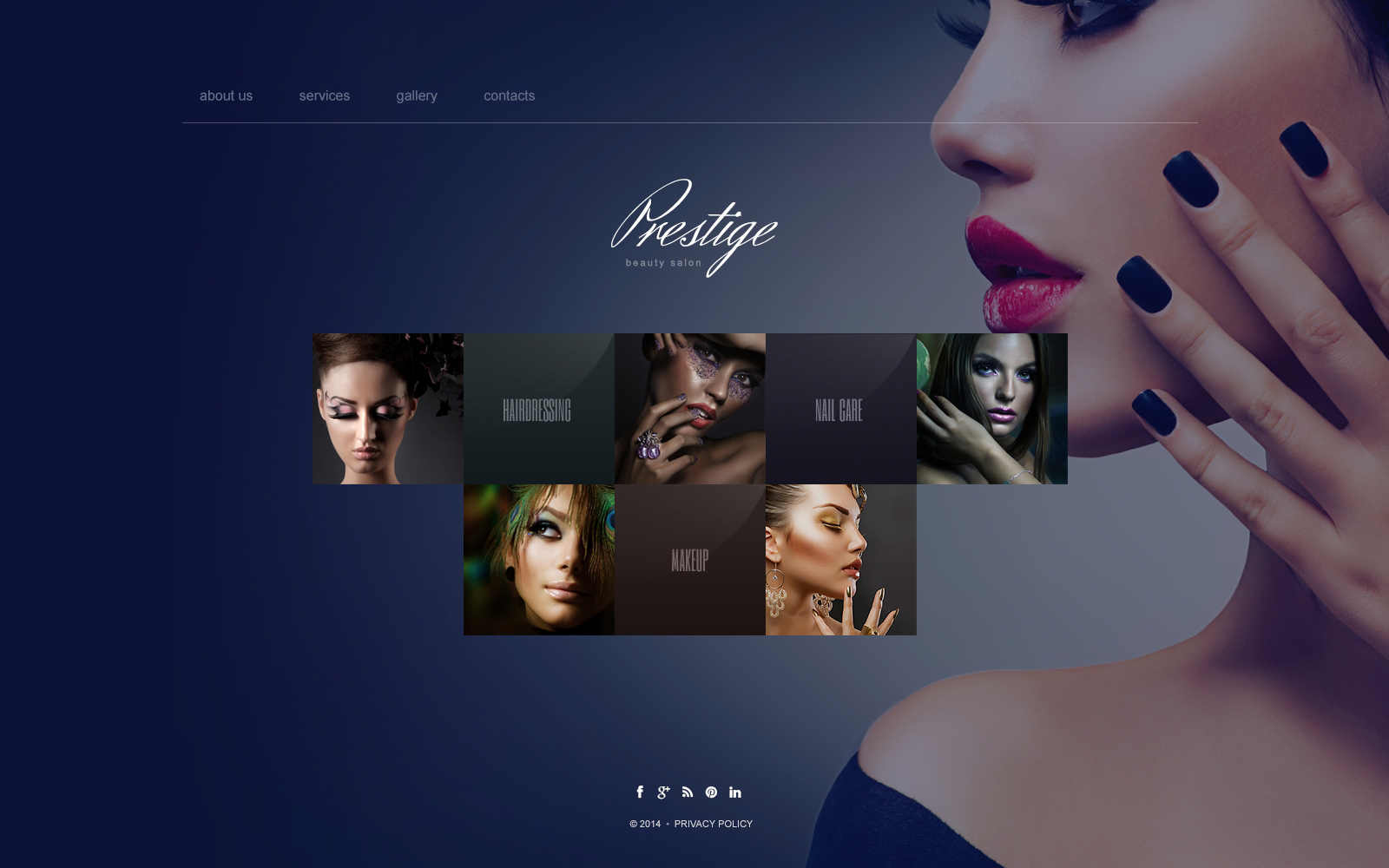 Template 49548 –  School of Philosophy Responsive WordPress Theme
A vibrant, distinctive website template in orange and grey with a textured,
neutral background for text. Animation effects on banners,  text and
photos keep the viewer's interest alive. Rollover effects on body text panels
reveal orange boxes of text. The template has a gallery in several formats
and a blog.
Template 49153 – Moto Training Responsive Website Template
Lime green and transparent black with an image of a motorbike rider
make a striking header in this responsive JS animated template.
The serrated edges lend a distinctive touch. The gallery can be
viewed from the homepage and also by category. The black footer
rounds off the design and provides contrast.
Template 48596 – Painting Services Responsive WordPress Theme
Vivid colors catch the eye along with large animated text in the
homepage slider of this WordPress website template for a professional
painting services company. Photographs in a grid along with red and
green squares present organized content. Photo thumbnails at the
bottom enlarge to capture interest and lead into the blog. A textured
grey background lends balance and readability. The gallery is presented
in three formats.
Template 49251 – Architecture Responsive WordPress Theme
The homepage slider with bold text messages is designed on transparent
blue on photographs of architectural structures. The projects gallery
reveals rollover effects with blue borders appearing around the
photographs. The blue theme is continued with icons on blue squares
and headline text  in blue on a white textured background. The gallery
displays content in multiple formats, and can be viewed by category.
The  blog presents an opportunity to engage with customers, post news
and showcase completed projects or works in progress.
Template 48719 –Design Studio Moto CMS HTML Template 
This template has a confident, modern look with  bold black fonts on a
red textured grid background focusing attention on the logo, and white
text on red for the menu. black pages slide in with white text and bold
headlines, to provide details of the design agency's services. The
design portfolio is presented in a grid of images that enlarge on click.
Template 48576 – Gift Store Responsive OpenCart Template
The scalloped orange band adds a distinctive touch to the header,  with
images of products below as seen through transparent layers of color,
which lead into product pages. The colors are offset by a large see-through
panel with a photograph. It is like looking into the windows of a store. The
homepage slider with large images and informative captions or names of
collections  in large fonts, leads to product pages with image zoom,
slideshow, product description, price, stock availability, shopping cart,
social sharing buttons and product reviews.
Template 48988 – Handmade Soaps Responsive Website Template
This elegant template has an image slider that shows beautiful pictures
of handmade soaps with their natural ingredients.  Icons that reflect the
colors of the soaps are placed in half circles below the slider and draw
attention to the content.  The color theme is followed in the buttons that
lead to more content. An image carousel shows a range of handmade
soaps. The neutral beige background highlights the product colors.  The
logo in white script fonts stands out on a red box, against a band of white
which forms the menu. The gallery showcases the products attractively.
Template 48707 – Hotel Responsive WordPress Theme
Designed in rich purple, neutral beige and white, this elegant hotel website
template has attractive banners that highlight special offers and packages.
The slider presents a  glimpse of the hotel's rooms and food, with large
text highlighting specific facts.  The  template includes a gallery and blog
with the facility to upload content in  several formats.

Template 49234 – Rodeo Show Responsive WordPress Theme
This template brings the Wild West alive with its bucking broncos,
daredevil riders and cowboy guitars, vintage styling and fonts, smart
menu with stars and ribbons, rich brown background with scallops,
wooden fencing, posters with illustrations,  and photo borders like
postage stamps, promising an unforgettable  experience.  The Gallery
promotes the exciting events and is viewable by category.  The Blog
recaptures the spirit of rodeo  and showcases the horses and riders.
Template 48152 – Software Apps Responsive Website Template
Navigate through slider buttons and through animated menu icons, in
this modern single-page  flat design with bold graphics, colors and icons.
Testimonials scroll horizontally to reveal more content and neatly  fit  it
on the page without clutter.
Template 49078 – Textile Industry Responsive Website Template
The image slider with grid animations shows products with statistics
in large fonts in red to impress the site visitor. Circles show the production
breakup by product. Red text boxes present the company's strengths.
Testimonials are shown in a carousel below and blog excerpts are
presented in white text boxes against a blurred photo background.
A gallery and blog promote the company's products and services.
Template 43890 – Gift Shop VirtueMart Template
This gift store template has a sophisticated look with muted pastels
and textures (even in the product captions and drop down menu), white
space, homepage slider with grid and strip animations, understated
arrow icons and text, login form and search prominent on left of
homepage, product page with description, reviews, price, shopping cart,
image zoom and social sharing icons.
Template 49390 – Business Responsive Joomla Template
This template gives a view of a company at a glance, with a friendly
executive to personalize the experience. The slider with colorized
photography shows a closeup of a girl with spectacles, turning her
head with a friendly smile, almost as if she is talking to the visitor.
Rectangular infoboxes show black and white photographs of the
company at work, with text below.  The text boxes turn red on rollover.
Icons in red circles draw attention to the company's advantages.
Large grey fonts on white look authoritative  without a being heavy.
Lots of white space gives an uncluttered appearance and an upmarket
look. The footer adds to ease of navigation.
Template 49527 – Industrial Services Drupal Template
Colors, textures, icons  in circles and media work with images and text to
fit a large amount of content in the homepage and present the company's
capabilities at a glance.  Accordion text expands to reveal more content.
Banners lead into the site and orange rollovers attract attention to content.
The footer has useful links and client logos.  Projects are presented in a
gallery and insights are shared in a blog.
Template 49243 – Plumbing Store WooCommerce Theme
Streamlined plumbing products are elegantly displayed in this template.
Brown and red form a rich, effective header and combine with black and
white with a grey background to convey a high-class look.The image
slider shows large images of products.  Below the slider a photo-grid of
product categories with image zoom is showcased, leading into category
pages. More products are shown below with prices and rollovers in brown
and red, leading to product pages with details.  The gallery and blog serve
to  promote the products further.
Template 49378 – Sunglasses Store Responsive WooCommerce Theme
This WooCommerce theme for a sunglasses store has a high-fashion look,
with large images with blurred backgrounds, a grid displaying photos with
zoom effects and text boxes in red, green and grey with brand names and
descriptions, leading into the website. Scrolling down the page reveals
featured products and blog photos with swivelling green squares with blog
excerpts, leading into the blog. Navigation links are provided on the top and
bottom of the page. The Portfolio in large-screen image format can be viewed
by category. Search and Shopping Cart buttons  at the top of the page provide
calls to action.
Template 49409 – Drum Teacher Responsive Website Template
The focus of attention is the unique large format logo, with a drumstick
cutting across the logo fonts. Drop-down menus stand out in red on white
and drum lessons come alive in pictures and text below. The gallery and
blog feature drumming performances and promote the drum lessons.

Template 49583 – Jewelry Store Responsive OpenCart Template
Black and white grids with a stylish script logo show off beautiful jewelry
to advantage. The menu with elegant capitalized fonts neatly presents
product categories. Banners on a black background display samples of
jewelry and lead into the site. Featured products with image zoom are shown
below on a white background, leading into product pages with details.
"Add to Cart' buttons encourage the user to buy the products.
Template 49669 – Pasta Responsive Website Template
Background illustrations of food on neutral beige lend an elegant look to
this  website design with a large appetizing photograph of food taking
centerstage, and the logo placed in a scalloped-edge white rectangle.
More photographs of food appear in a carousel below. Menu animations,
use of white space, scalloped edges for the border, text boxes, and
color bars in attractive green and red give a fillip to the design.
Template 49437 – Travel Booking Moto CMS HTML Template
Green and red on white make an attractive combination in this travel
website template. A central visual that depicts the pleasures of travel
catches attention. Icons on green bands symbolize a range of services.
Photographs of foreign tours with pricing and red rollovers on green
bands persuade the user to "book now!"  Special offers are highlighted
on red banners.
Template 48858 – Stained Glass Moto CMS HTML Template 
The image slider displays glorious patterns in stained glass and image
captions on transparent layers on the image helps to sell their merits.
A neutral textured grey background keeps the focus on the stained glass
while adding a touch  of class. More stained glass panels are displayed
below. The template has a stunning gallery and more details on the
stained glass are provided on the services page with images.
Template 49319 – Business Consulting Drupal Template 
Large fonts on a mountain backdrop portray confidence and success.
Icons symbolize the company's personalized and effective services.
Photographs in circles on  rectangles showing staff at work are displayed
in a carousel to present the company's experience in various services –
more visuals are displayed in the carousel.   A horizontal banner continues
the main visual along with a text message and holds the layout together.
A gallery and blog display more information. The footer presents  important
links as well as logos of clients.
Template 49517 – Video Production Responsive Bootstrap Website Template
Circles in transparent red, yellow and green on a large image backdrop
present the  company's  services.  Video samples are shown in the grid
below and lead to the gallery.  Large fonts that are not heavy have a
sophisticated look.
Template 49520 – Business Card Responsive Magento Theme
Red, black and white make a visual statement that cannot be missed
in this business card website template. The image slider shows
samples of printed business cards with colors and textures. A big
red banner prominently displays a discount promotion. Below, product
categories are showcased with rollovers in red and black, and lead
into the site. More products are shown on a grid below. The footer
contains  useful links including a sitemap.
Template 49528 – Travel Club Javascript Based Website Template
This template presents a sophisticated look with elegant fonts,
white space, large text, small fonts for the tagline, image and text
animations. The image slider with transparent black text banner
promotes destinations with prices and descriptions. On scrolling down,
text and beautifully illustrated icons move into  the screen, leading to
more  information. On clicking 'Tours' in the menu, images slide on to
the screen,  and further scrolling reveals text animation.
Template 49531 – Italian Responsive Website Template
Go diagonal!  Diagonal bands with a wooden texture and shadows
for the menu and banner differentiate this single-page template
design from most others with a standard format.  Bold text in red and
white catches  the eye. Mouthwatering pizzas tempt the appetite
in the image slider.  More images are shown below against a textured
grey background. A transparent banner through which with food is seen,
carries descriptive text.   Services  are presented with colorful icons.
Template 49546 – Rodeo Show Responsive WordPress Theme
Large images and  retro poster-style big fonts are  the highlights
in this  template. White fonts stand out on dark images and on earthy
beige.  Black fonts draw the eye on white.The blog presents interesting
content on the  performers, the events  and the animals. The gallery has
zoom effects and enables content to be uploaded in image, slideshow,
gallery, video and audio formats.   The gallery can be viewed by category.
Template 49099 – Science Lab Drupal Website Template
A smart combination of grey, black and maroon in a grid conveys
reliability, discipline, independence  and authority along with a
pioneering spirit and thoughtful action.  The menu is also presented
within the grid.   Large text and numbering draws attention to important
points in  text.  The gallery can be viewed by category and the blog
showcases new projects. The footer displays social media icons and
navigation links.
Template 49061 – Gift Store Responsive Magento Theme
This gift store template has an elegant look with serrated borders on  a
textured grey background,stitched borders on text boxes calling attention
to product categories, a product slider and a photo grid with ample use of
white space where logo, prices, and products stand out. Clicking on a
product leads to a product page with description, price, image zoom,
product reviews, and related products. Links for Account, Login, Shopping
Cart, Search are prominent on top. The footer with sitemap aids navigation.

Template 49007 – Law Responsive WordPress Theme
This template has a modern and professional look, using colorized
photos  in shades of blue and purple on a black background, to draw
attention to its services. The photos swivel to reveal text at the back.
Icons on strips of color symbolizing service categories are revealed
on rollover. Drop-down menus in white contrast with the transparent
black background through which an image is seen. An image
carousel  at the bottom displays photographs of the staff – photos
swivel to display their names. Services are presented in the  gallery
in several formats. The blog engages customers with case studies and
useful content.
Template 49558 – Frozen Seafood Responsive Website Template
Red and black make an elegant combination in this template. The logo
and menu stand out on red.  The image slider with arrows in red and white
showcases the products on offer. Illustrations in white on black along with
white text are revealed on rollover.  A red banner below calls attention to
more products which are displayed in an image carousel.
Template 49560 – Artist Portfolio Responsive Website Template
Beautiful art needs to be displayed in a distraction-free environment. This
template design provides ample white space and a gallery where the
artist's work stands out.  Transparent black banners with text on
images present the artist's quotes with style.
Template 49561 – Window Cleaning Responsive Website
A clean layout in shades of blue and white with a gallery and blog and neat
fonts makes a professional statement for a cleaning company in this website
template.
Template 49564 – Exotic Plants Responsive Bootstrap Website  Template
Circles are the predominant elements in this template – large circles
displaying exotic flowers in the slider and smaller circles with shadows
showing more products in the carousel below. Circles highlight icons and
"Buy Now" buttons. Textured grey  background with black menu allow the
flowers to stand out. Choose from cool add-ons for portfolio, slider and
social media to add value to the template.
Template 49576 – Wine Club WordPress Theme
This template is designed in shades of imperial purple with warm
highlights on the menu and has an elegant look with a script font for
the logo and classic serif fonts for the body text. The  purple color
provides a background for attractive images of different types of wine,
revealed with strip-style animations in the image slider. The image
gallery displays the products,  and the blog provides more information.
Template 49586 – Luxury Bed Linen Responsive Magento Theme 
This responsive template is designed in red, white and black with zoom
effects on black-and-white photos in the image grid and slider. Large
banners call attention to special offers. New products are featured below
with an "add to cart" rollover on each product providing a call to action.
The image slider leads to category pages with products in color.  Product
images on the  homepage lead to product pages with further details. Search,
shopping cart and login links are placed at the top.The footer aids navigation
and includes a sitemap.
Template 48124 – Construction Flash CMS Template
This template for a construction company uses large white fonts on
black, a red menu bar, an image slider, project images showing service
categories, and footer navigation to present a highly professional and
reliable  appearance.
Template 49630 – Music Responsive WordPress Theme
Blue and purple rectangles make a striking combination against dark
grey and black in this flat layout. Circles with graphic icons and mustard
rollovers, call attention to important content.  A large grey graphic of a
mike, mustard and blue fonts, mustard graphics and black-and-white
images promise a lively musical evening. A gallery and blog feature
media in multiple formats to engage the site visitor.
Template 49596 – Hiking Camping Responsive Website Template  
Shades of green with black and white backgrounds , large images and
large text, photos in circles below, a captivating image slider, search,
registration and login prominent on the top right,  social media, menu
animations – all these elements work together to make this a classy
template with an eco-friendly look.
Template 49189 – Landscape Design Studio Flash CMS Website Template 
This cool green website template has beautiful Flash animation effects on
the logo, menu slider and inner pages. White space at the bottom highlights
the logo and the menu. The image slider displays large images with grid-style
animation. Page text with green graphics unfurls like a flag.
Template 49639 – Fitness Responsive Bootstrap Website Template
An image of a woman pleased with the results of fitness training stands
out on a soft bokeh background. Circles with fitness-related icons on
rectangles in soft colors; the use of black and grey colors with
black-and-white photographs; bold text in white, red and black –
all these elements work beautifully together to give you a striking
responsive website template with Bootstrap, for use on desktops
and on popular mobile devices.
Template 49672 – Beach Volleyball Responsive WordPress Theme
Sleek condensed fonts, an image slider and other images that move on scroll,
takes you to  the scene of a beach volleyball game. A gallery in two, three or
four columns can be viewed by category and content can be uploaded in
image, slideshow, gallery, video and audio formats.  The blog keeps players
and viewers engaged  with useful content, comment forms and social sharing
icons.
Template 49305 – Photographer Portfolio Javascript Based Website Template 
This template uses a sophisticated textured grey background and script
fonts. Images are displayed in a slideshow with overlapping pages,  viewable
from left or right – pages seem to advance and recede on a diagonal slant,
somewhat like pages of a book turning. As one slide goes out of frame,
the next one comes in, making an impressive portfolio presentation.
Icons in white on orange circles give a visual appeal to the Services page.
Template 49457 – Tennis Store Responsive PrestaShop Theme 
Red and black make a striking contrast and products stand out against
white in this website for tennis accessories. Blurred background images
of tennis players in action and large text on  the slider focus attention on
the strengths of the products offered by the store. Products in a grid offer
more details in a Quick View.  Yellow  and red flags  show new or sale items.
Product pages have image zoom, price, stock availability, discounts,
shopping cart and related products. The footer includes important links,
social media and a sitemap.
Template 41846 – Agriculture Website Template
Green on green makes a fresh and eco-friendly statement in this website
template.  Two green textured backgrounds frame images of agricultural
produce  displayed in diagonal strips, with the menu designed in a different
shade of green.  More products are displayed in rectangles with green
borders. Fonts in white and green carry the green theme further.
Template 49488 – Business Consulting Responsive Joomla Template
An out-of-the-ordinary design for an out-of-the-ordinary company. A grid
in shades of red with white icons on the background of an image seen
through transparent black; flat elements; red rollovers, text boxes and
fonts along with a red and white logo and drop-down menu give a look
of energy and authority to this website template. Services are presented
in a gallery with image zoom, viewable by category. The blog can have
persuasive content that shows the company in action, or content that
educates potential customers.

Template 49490 – Horse Breeder Responsive Website Template
The homepage slideshow and images in circles with rollovers make
this website design a highly visual experience. A large background
photograph and white banner with a curved border soften the angularity
of the image frame.  The brown footer on a textured wooden background
also has a curved border to add continuity to the layout. The logo in a
transparent  black banner contrasts with the white and red of the menu.
Text is easily readable on neutral beige and white.   The gallery shows
action pictures of the horses.
Template 49445 – Photo Portfolio Responsive Website Template 
This portfolio template has a smart black and white theme.
The logo in white with the name on a black circle stands out on a
transparent  layer of black on a photo grid displaying the works of
the photographer. The image slider with grid animation displays
full-screen images.More images are displayed on a  white
background below with project names on rollover – they can be
viewed as a slideshow. Notice the icons in circles below,
placed on a shadowy black and white image, and large social media
icons on a textured black background.
Template 49212 – Handmade Candles Responsive Bootstrap Website Template
This template has a sophisticated look in shades of purple, blue and green
with grey. Large fonts on semi-transparent photo backgrounds of candles
present marketing messages. Arrows pointing  to the subheads draw
attention to the images and to the text boxes in complementary colors,
which lead into the site. More products are showcased in a grid format
below. Choose from cool add-ons to add value to your site – like a
JS Animated image slider, beautiful portfolio layouts and social media.
Template 49347 – Photo Gallery Moto CMS HTML Template
Large fonts call attention to the logo and headlines on white space.
Images displayed in strips move to the right or left on rollover,
enlarge to full size when clicked and can be viewed as a slideshow
with thumbnails  in this photo gallery template.  Moto CMS allows
easy editing and updating of content.
Template 49346 – Photography  Website Template with Portfolio
A full-screen background image dominates the homepage with a black
texturized rectangle holding the logo.  Simple circles with rollovers form
a menu in this minimalist design. The Portfolio can be easily edited and
updated with the  integrated Moto CMS HTML in this template.
Template 48969 – Spa Salon Responsive Joomla Template
This template for a spa salon uses white space with large logo,
red and black typography; a clean layout with beautiful images
in the slider to create a serene spa ambience; a gallery with rollover
effects and image and slideshow views; a blog with a login form to
create a secure network of customers. The  page is superimposed
on a refreshing background image of petals on  dew-drenched stone.
Template 49568 – Furniture  Interior Responsive Joomla Template
This template has a classic vintage look with faded photographs, elegant
fonts, textured background and minimal design.  Mustard buttons and grey
fonts complement the warm look of the photographs. Beautiful furniture
is showcased in the image slider.  The faded photos below turn
black-and-white on hover while transparent arrows on a mustard square
lead into the site. The gallery displays furniture with rollovers on transparent
black, allowing enlarged views or leading into the site with more details.
The blog  presents informative content with comment forms and social
media icons.

Template 48992 – Ancient History Responsive Website Template
Thoughtfully designed web elements present information and photographs
with flair – circles  for text and images, double-arrows within circles,
transparent bands for image captions, an image slideshow with imposing
photographs of ancient monuments,  green banner and buttons,  elegant
typography and page layouts for an informative site.  An image carousel
below displays more photographs. Add value to your site with smart add-ons
like sliders,  portfolios and social media.

Template 49475 – Photo Gallery Template with Integrated Moto CMS HTML
Diamonds on transparent layers for the menu, photos and graphics
on a grid, text on a transparent background that slides into the frame,
a stylish  script font for the name in red and white on a black band…
all these elements work together to distinguish this website from
others. A PhotoGallery 3.0  template, it comes integrated with Moto
CMS HTML  for easy content  management and updating.

Template 49449 – Model Agency Responsive Website Template

This model portfolio template is an unusual and impressive scrolling
gallery of photo close-ups of models in soft single-color pastel
shades. Animated stars and the model's names appear on rollover.
On clicking a photo, the user  can view the model's details, experience
and a  four-color photo of her.  The menu is placed at the bottom.
The logo and inner pages have text in white on black.