These days, it's all about being tech-savvy. And one way to show off your modern edge? Putting a QR code to your business card. 
QR codes offer a cool new way to connect with potential clients and customers. Whether you're a small business owner, freelancer, or work in corporate, a QR code on your business card can make all the difference in how your brand is remembered. But that's just the beginning of what a QR code can do. If you want to learn more about the power of QR codes on business cards, read on!
What Are QR Codes?
QR codes, short for Quick Response codes, are two-dimensional barcodes that store data in a grid pattern of black and white squares. QR codes on business cards serve as a link between the physical and digital worlds. 
The code can take you to a website, open an app, provide contact information, or open your appointment calendar with just a quick scan. All a client has to do is use a QR code reader or scanner app on their smartphone to scan it and get access to whatever you've put in the code. 
Benefits Of QR Codes On Business Cards
QR codes on business cards offer a variety of benefits to those who use them. Here are just a few:
Provide Quick Access To Additional Info:
QR codes are quickly becoming a popular addition to business cards, as they provide an easy way for potential customers to access additional information about the cardholder's organization online. 
QR codes can store website addresses, contact information, or even social media profiles that link to the company's main website or digital platforms. By placing a QR code on a business card, businesses are giving people quick and easy access to more comprehensive details about their services or products.
Keep Track Of Interactions:
Another advantage of incorporating QR codes into business cards is that they allow companies to track how many people scanned their codes over time and adjust their marketing efforts accordingly. 
With traditional business cards, there was no way of knowing who actually looked at them after they were distributed — but with QR code tracking tools, organizations receive vital data about how many people interacted with their content and where those interactions took place.
Easily Customizable:
QR codes have become so widespread that there are now specialized printing services that offer customized designs for business cards with built-in QR codes. This allows companies to add their logos and color schemes to the code, combining both traditional and digital elements into one cohesive package. 
Plus, businesses don't need any special software or hardware to have a QR code: all it takes is a smartphone with the appropriate scanner app installed. In addition, these codes are easily created online with the help of a free QR code generator like Beaconstac.
Make Your Card Clutter-Free:
A neat and clutter-free business card is the key to making a great first impression. And what better way to do that than by cutting out the need for additional text by using a QR code instead? 
By doing so, you can provide the same information with a much cleaner and more attractive layout. Plus, with a QR code, you don't have to worry about running out of space or URL typos that can occur with long web addresses.
Edit Information Without Reprinting:
QR Codes provide an extra layer of flexibility to business cards, as they're the only type of card that can be edited even after they've been printed. With a dynamic QR code, you can easily update the code's destination or add new information without reprinting the card. 
This means that if your business address or website changes, you won't need to go through the trouble of ordering and distributing new cards. Just edit the QR code's destination, and you're all set.
Getting Started With QR Codes
Now that you know the benefits of incorporating a QR code into your business cards, here are some tips to help you get started:
Choose The Right QR Code Type:
The two main types of QR codes are static and dynamic. Static codes link to one set destination, which cannot be changed after the code has been printed, while dynamic codes can be edited and reconfigured at any time. Depending on your needs, choose the type of code that best fits the job.
Keep The Design Simple
A chaotic business card defeats the purpose of adding a QR code in the first place. Don't go overboard with colors, logos and other design elements. Keep it simple and let the QR code stand out as the main attraction.
Test It Out
Before you distribute your business cards, give the QR code a test run to ensure it works as expected. After all, you don't want to hand out cards only to find out that the code doesn't take people to the right page.
Start Using QR Codes On Business Cards
QR codes are a great way to breathe new life into an otherwise mundane business card, providing a modern twist on an old classic. Aside from adding a bit of flair and modernity to your cards, QR codes offer many advantages that traditional cards simply can't. So give them a try and elevate your business card game. 
Some examples of qr codes in business cards
Business Card Templates Corporate Identity Template v148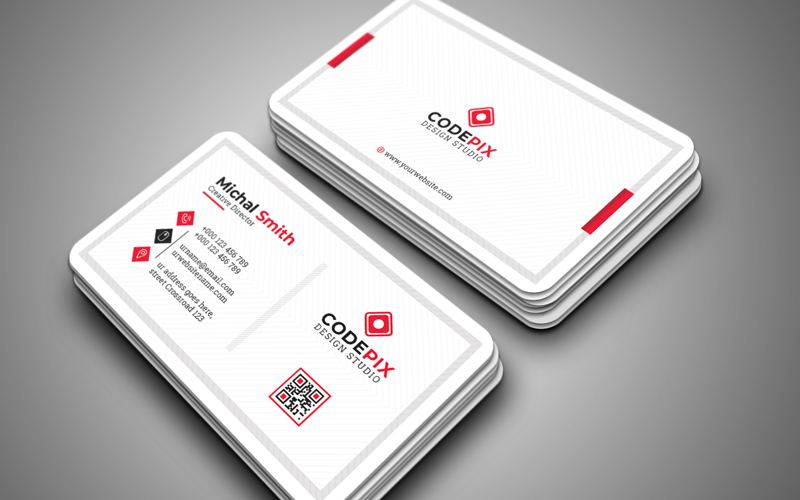 Professional Yellow and Grey Business Card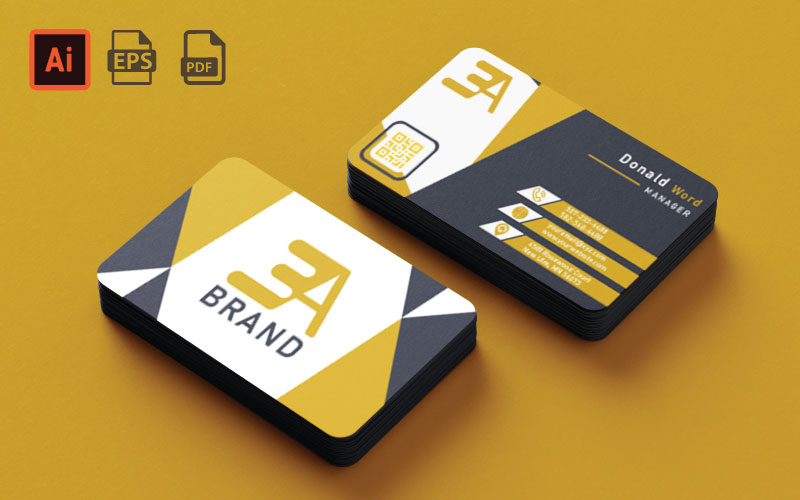 Business Card Templates Corporate Identity Template v143