To create a brochure that works, first address the 5 W's of brochure communication – Why, Who, What, When and Where.
Why do you need a brochure?
What is the purpose of the brochure?
How long will its shelf-life be?  How will it be delivered – by mail, in a shop, at an event or by a salesman?  How will it fit in with the rest of your marketing materials?
Your brochure could take the form of a portfolio.  A direct mailer.  A corporate brochure.  A product catalogue.  An annual report. An information booklet.  It  could be a business-to-business or business-to-consumer communication.  You need to know the purpose of your brochure in order to define the tone and manner of your message.
The concept of the Google Annual Report design focuses heavily on the idea of integration, connectivity, and collaboration.  Source

UNICEF ZeroAwards Source
The UNICEF ZEROAwards gala fundraiser launched in Viet Nam went to three recipients who were recognized for their humanitarian efforts to fulfill children's rights and reduce the number of vulnerable children to zero. The brochure and CD holder with its focus on the power to make a difference, as shown by the plus signs (donations) adding up to make a zero in the design, is one among many other communications in the total package for the UNICEF ZEROAwards.  Embossed plus signs form a zero on another folded brochure. The line says "The + is you".  "Join together with us and believe in zero." (Zero child deaths due to malnutrition or to preventable causes.) 
Who is the brochure meant for?
Define your target audience.
Are they teachers, CEOs, mothers, children, or experts making important purchase decisions regarding expensive machinery?  Who are they?  What are their concerns and beliefs?  What are their priorities?  How much time do they have to glance through a brochure?
 This leaflet reveals the autumn-winter collection "Helvetia," a fashion label from Lausanne Prism. The triangles in the design reflect the logo.   Source
What are you saying?
Define the key message of your brochure.
Be specific about what you want to convey.  Keep your message direct and tailored for your audience. Stick to four or five main points in support.
If it is an event brochure, for instance, you need to build excitement around the event, provide all information about the dates, times, venues, parking and include special offers to incentivize sales and footfalls.  Use language and art designed to appeal to your target audience.
Notice how the event brochures below – for music, art and global women trailblazers –  create a unique character and image for the special event that lingers on well past the event, in the form of souvenirs and memorabilia.
Carmel Bach and Beyond Festival Brochure Source The poster, mailer brochure and tickets, were designed to attract younger people to this annual summer festival featuring baroque, orchestral, and choral music.
Large typography interspersed with art promotes the museum exhibits within the folds of this multi-fold A5 brochure for the Museum of Contemporary Art Australia.  Source
TWHP 2010 EPIC Awards Source
"Add women.  Change Everything." says t
his brochure with its varied colors, geometric folds and shapes that attract attention to the figure of a lone woman making her own path. The EPIC awards honor the leadership of women in popular culture.  It is a White House Project and honors global women trailblazers.
When and where will you use your brochure?
Time and place is all-important here.
If you're promoting summer clothing, make sure you create, print and mail out your brochures to stores in time to catch the summer launches!
You may want people to sign up for a swimming coaching camp, or to attend a business conference, or to see your product demo, for which they need to visit your stall at an exhibition near their home. Your brochure will need to include a form.
How will the brochures be delivered?
You may mail the brochures out to customers in response to email enquiries from an advertisement or website. Or you may hand them out as giveaways or 'take-ones' at an event, conference or exhibition, where they double as point-of-purchase sales material.

A take-one brochure like this fashion brochure in a stand in a store, serves to sell merchandise in-store and can be carried away by customers for future reference.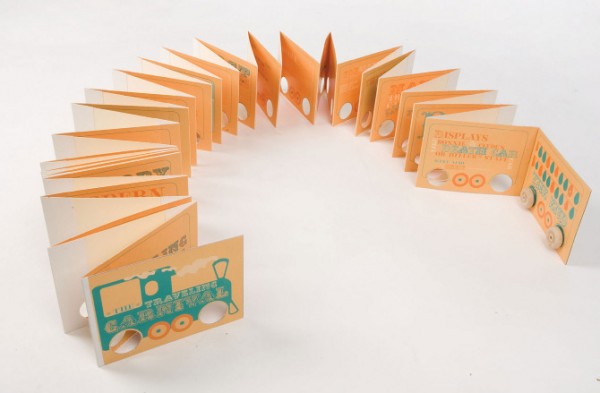 This creative brochure for a travelling carnival with die-cut train wheels, opens out to become an  attractive messaging display.
A sales representative at a client's premises can also use a brochure as a leave-behind after a sales call.   A brochure contains important contact information and product information that sums up the sales visit and helps the client make a purchase decision.
Tips to create a brochure that works
1. Grab attention on the cover
A visual and headline that speaks to your audience will capture their interest on the cover.
Repertory Season & Nutcracker Brochures for the San Francisco Ballet. Source The three season brochures target three distinct audiences, using innovative custom die-cuts and vibrant imagery, color and messaging that appeals to ballet lovers.
2. Keep it simple
Less is more.  Your target customer is interested in the benefits your product provides.  Tell her how your product with its specific benefits, solves the problem you've highlighted in the cover headline.
3. Speak your customer's language
Talk about real issues your customer cares about.  Empathize with your target audience. Put yourself in his shoes and write the copy. Choose the pictures that will best speak to him.  Avoid marketing and use sincere, honest language. You need to win his trust.
4. Inner pages:  Headlines, subheads, bulleted points support cover headline
Follow through quickly with bulleted points that support the cover promise.
Numbered lists, pull-quotes and blurbs draw the eye to important content. Testimonials, research, data, statistics can be quoted to support your statements.  Be careful never to mislead the customer.
Unlimited Portfolio – a beautifully designed portfolio brochure for a design studio using typography,illustration and content.  Source
Snowbordets Historie: Source
Inspired by mountains, this brochure takes your breath away by its lifelike feel, geometric shapes and folds and neat arrangement of images and copy to give the history of snowboarding.
5. Organize information in logical sequence
Information should be presented in a logical sequence to reply to a customer's likely questions about a product or service.
6. Give a reason why
Differentiate your product, your process or your company from others to give people a reason to buy or consider your product, join your company, or attend your event. Use simple language and keep it sincere – you'll strike a personal chord .

The benefits of working with the company are spelt out in this business multipurpose brochure and highlighted with facts and icons.Source 
7. Keep it visual.
Today's reader is impatient and visual. S/he tends to scan rather than read word for word.  Let some words jump out at her, in subheads or image captions. Images of the team in action express more than words.
The fashion design brochures shown above appeal to different audiences and are designed accordingly – from classic and sophisticated to avant garde,  to point-of-sale material that promotes specific design lines.  The focus is on selling the look and how it makes you feel.  Source
Fonts and icons combine to provide an innovative look to this brochure, designed in concertina folds that fold into a fan. Source
You can decide whether your brochure should be horizontal or vertical, or whether you want to experiment with textures, shapes, folds – bi-folds, tri-folds, accent pages, sizes, perspectives, sleeves, add functionality (like a map, event calendar or diary), and other possibilities to make your brochure a keeper.
Below the Line brochure  – Elegantly designed brochures with a specially designed case and space for giveaways and keepsakes add to the prestige of a company. Source
The brochure above with its casual illustration and handwritten font style was designed as a fold-out event poster and keepsake for a lively and colorful Brazilian Festival.
8. Include a contents page in a larger brochure
In a larger brochure with many pages, it makes sense to include a page of contents so that the reader can immediately locate what he wants.
9. Provide contact information and calls to action
Contact information and Calls to Action (CTA) should grab the eye at several key points in the brochure – on the front cover, the back cover, and at key places along with body copy, with visual cues such as accent circles, boxes or blurbs, among other design elements. Use white space to help your CTA stand out and an attention-grabbing color to get the user's attention.
Your calls to action should be
Simple – avoid using complex words
Specific – tell the user what you want her to do
Active – Use active words such as Buy, Call, Register, Subscribe, Donate
Urgent – Act now, buy now, offer valid for 3 days only, are phrases that move the customer towards a sale.
Incentives for customer response such as special offers, special discounts, offer open till stocks last, buy before March 31st and others are usually given in this call to action area, to make it attractive for the customer to fill up a form to get a newsletter, or sets up an appointment for a sales representative to visit.
Here are some ready-made brochure design templates that you can use to create an amazing brochure within minutes!
Trifold Brochure Hexagon – Yellow and Brown Geometric Theme with Transparent Overlays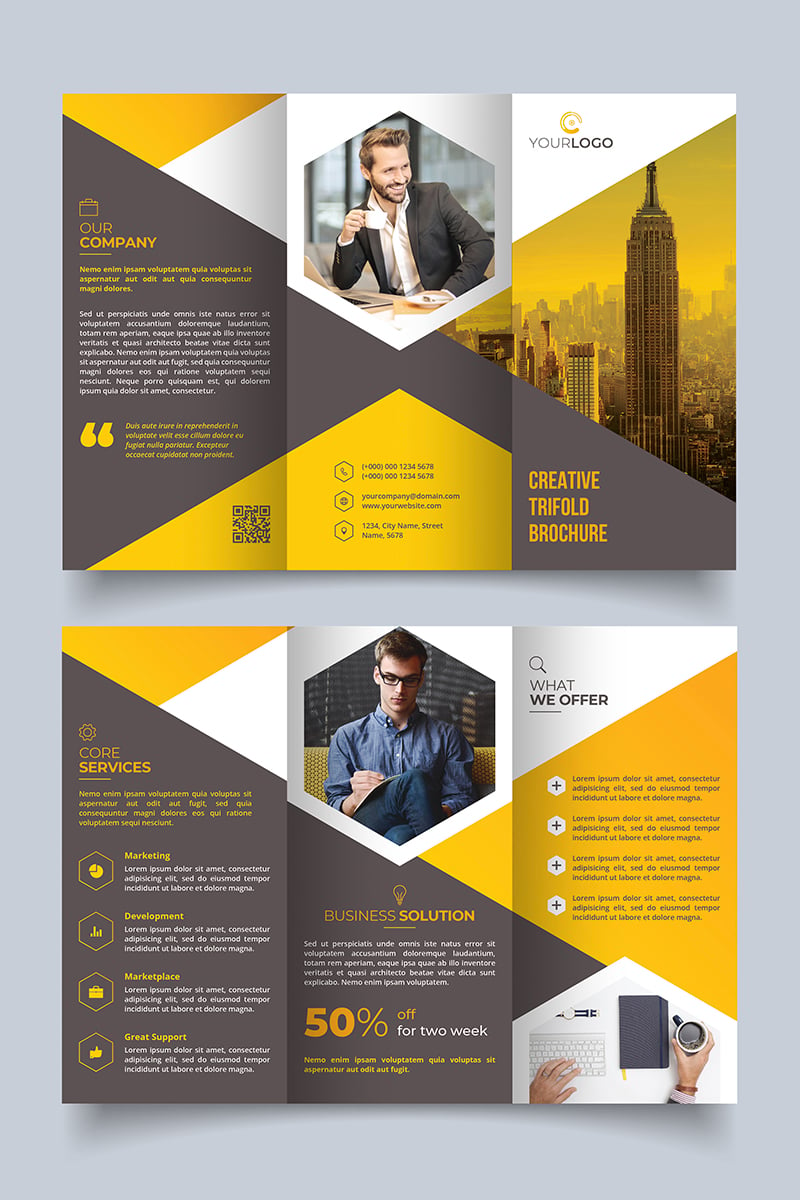 Business Bi-Fold Brochure – Blue and Grey Geometric Design With Transparent Overlays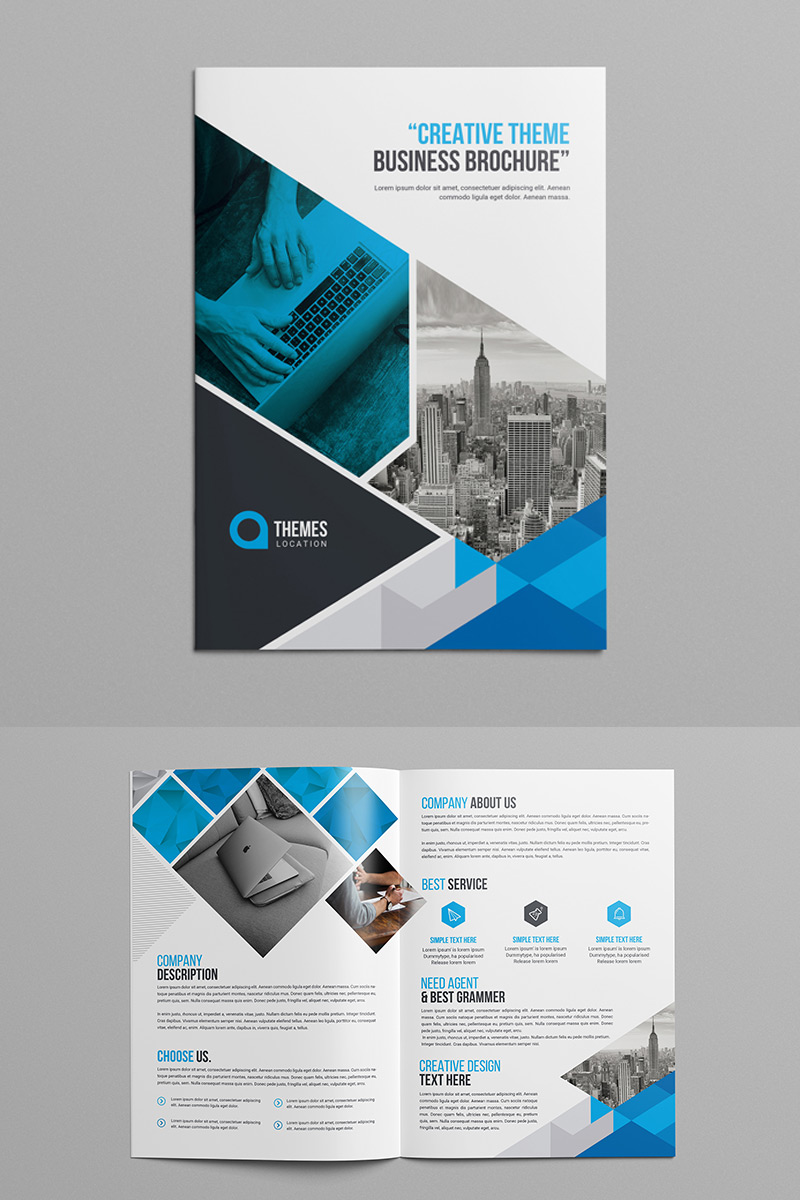 Business Bifold Brochure Design – Red and Blue Geometric Design with Transparent Overlays
Mint Multipurpose Trifold Brochure
To sum up
To create a brochure that works, first address the 5 W's of brochure communication – Why, Who, What, When and Where.  Why do you need a brochure?  Who are you talking to?  What are you saying?  When and where will your brochure be used? Get all these things clear, plan your brochure and organize your thoughts before you start copy and design.
Remember to: Grab attention on the brochure cover. Address your target customer's needs and promote your product or service as a solution. Keep your brochure simple, visual and organized. Provide testimonials, facts and information to back up your claims. Give contact information and  clear and specific calls to action.