Designing a brochure?  Here are a few things to keep in mind:
Colors
Theme your colors according to the mood you want to set – bold, bright, energetic or soft and muted.  This depends on the subject of your brochure.
White space or negative space.
White space applies not just to the color white but to any part of the design that is not covered by other elements such as text and photos. White space allows breathing room for text and provides contrast with color or photographs.
Fonts
Choose the right fonts for your subject – make the text speak using size, color and font weightage.  Don't use too many fonts.
Unity
Make it all hang together to make one coherent whole, using unifying elements like grids, page layout, colors, thematic graphic elements, fonts, keeping the directional flow of text in mind.
Provide a clear call to action
Ask the reader to write in, send a coupon, fill a form, make a call, or go to the store.  Give these details clearly and  provide focus elements like color,font size, graphic design – circles, squares, dotted lines etc to set the call to action apart from other text.
Experiment!
Break the monotony of text, page folds etc which seem to demand perfect symmetry. It's okay to experiment with asymmetrical  design – see the examples below.
Shapes in design help to
-organize, connect or separate distinct elements
– symbolize an idea
– create dynamism and movement
-provide a framework for content.
Used in conjunction with colors, shapes can convey emotion and mood or provide emphasis and focus.
Geometric shapes in brochure design
Unique Trifold Brochure Hexagon Design Template – Yellow and Grey Theme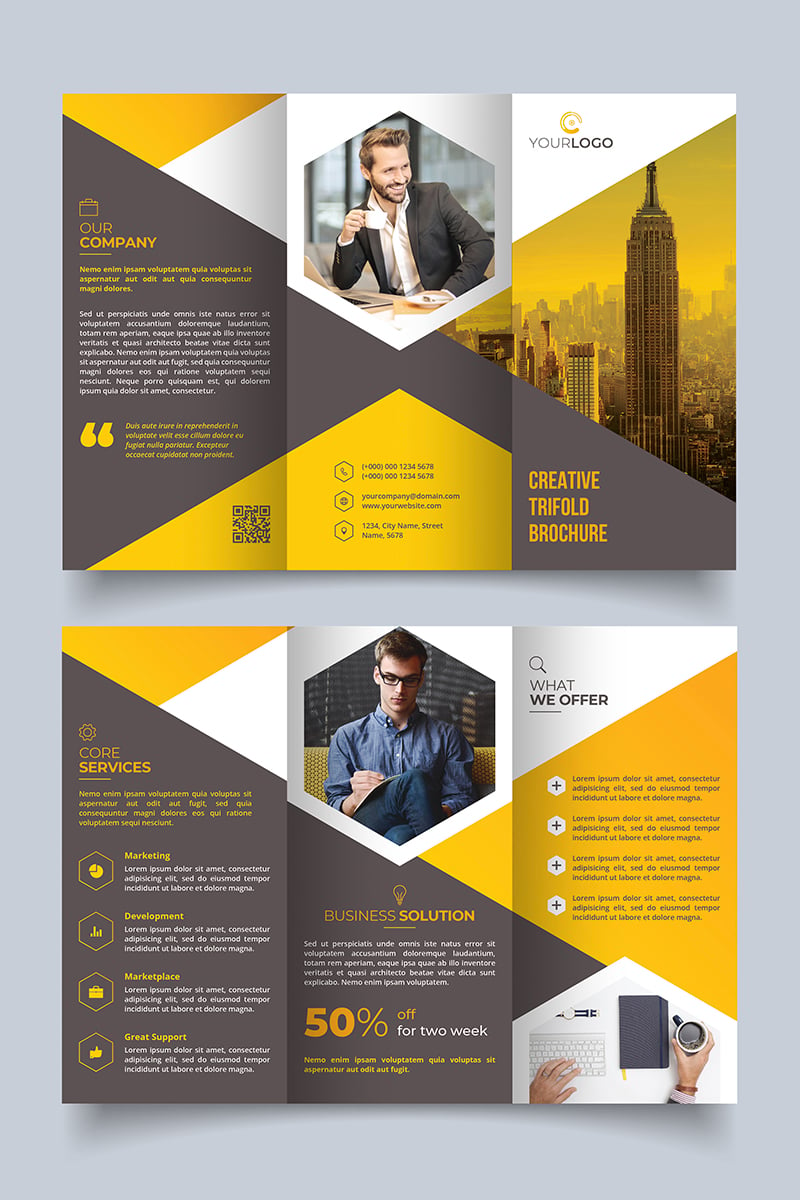 Sistec Bifold Brochure – Geometric Design Blue and White Brochure Template with Transparency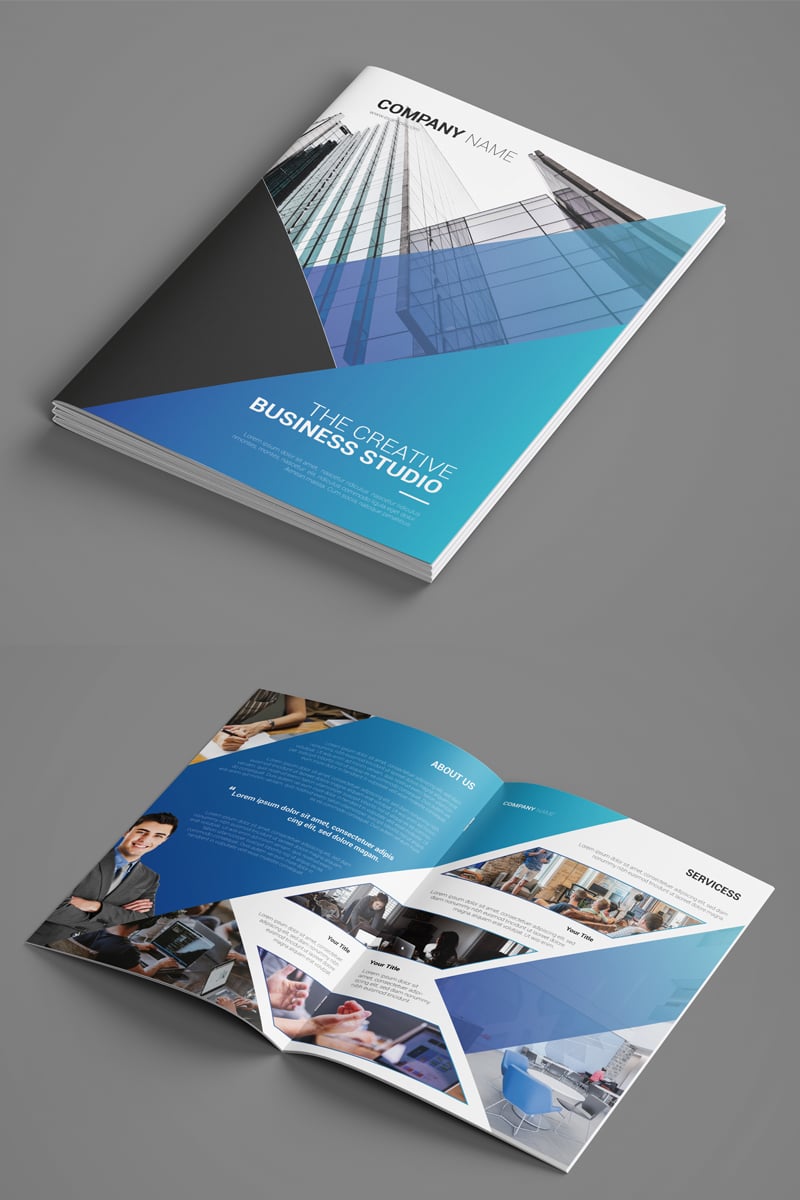 Colorful Circle and Geometric Design Gradient Tri-fold Brochure Design Template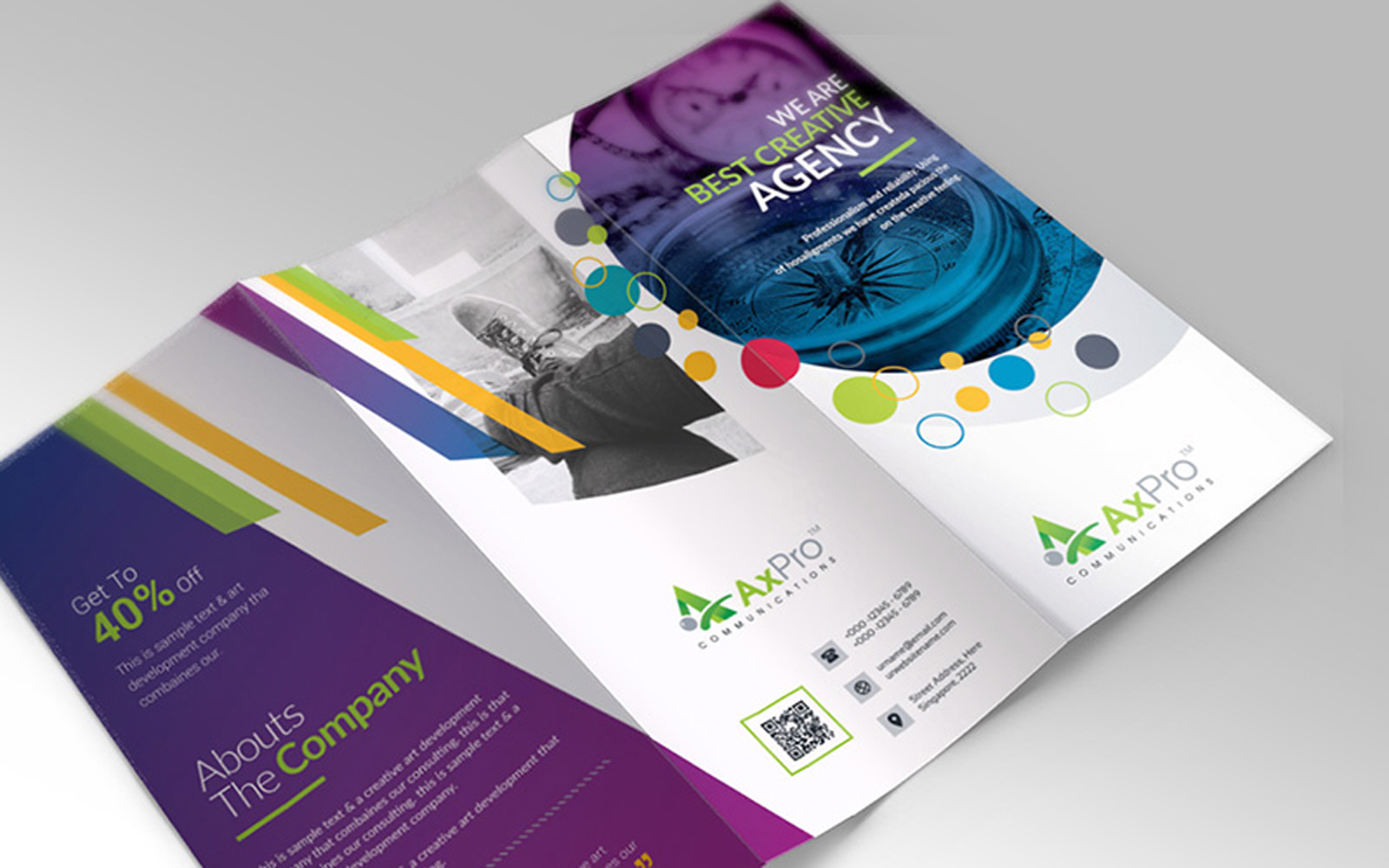 Orange, Pink and Purple Diagonal Lines Geometric Modern Bifold Brochure Design

Geometric Colorful Bifold Brochure Design Template – Use this ready-made colorful geometric brochure design template for your company.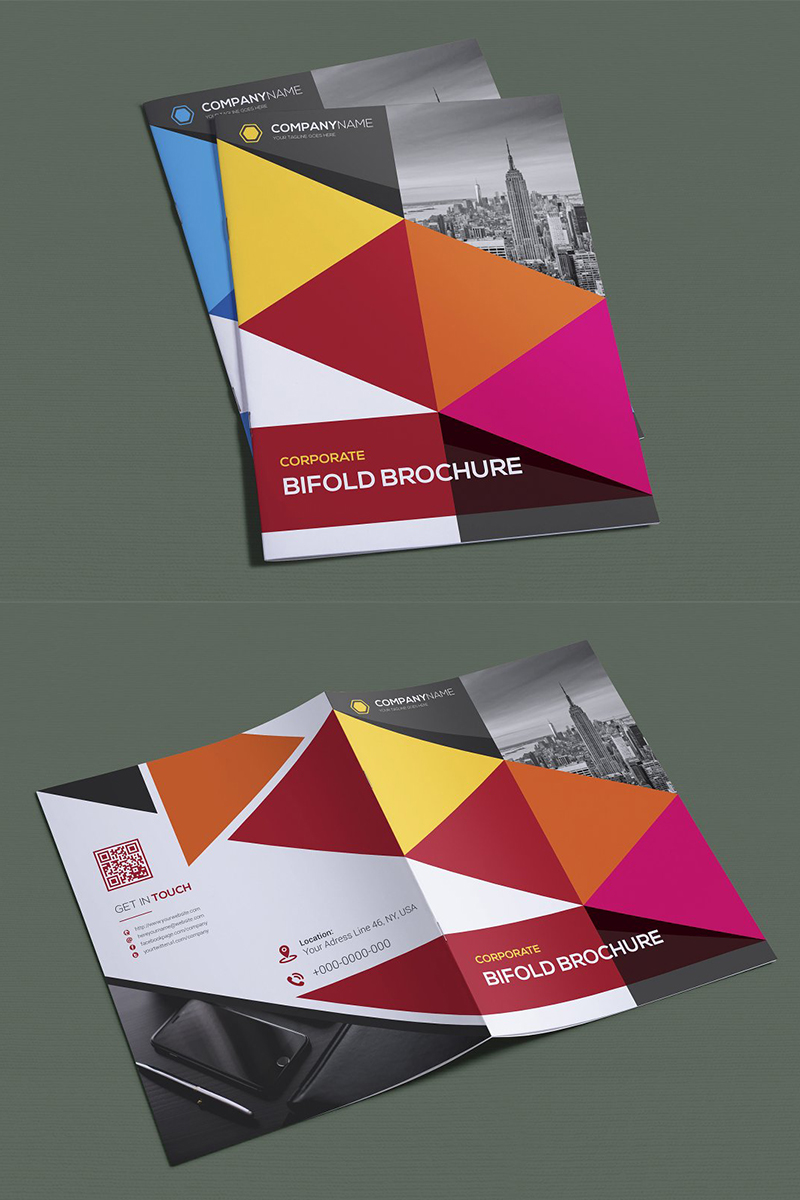 Green Grey and Black Shaded Triangle Design Brochure Template
Business Brochure Template – Geometric Design 
8 Page Creative and Modern Brochure Design Template With Circles – Blue and White Design with Red Overlay Accent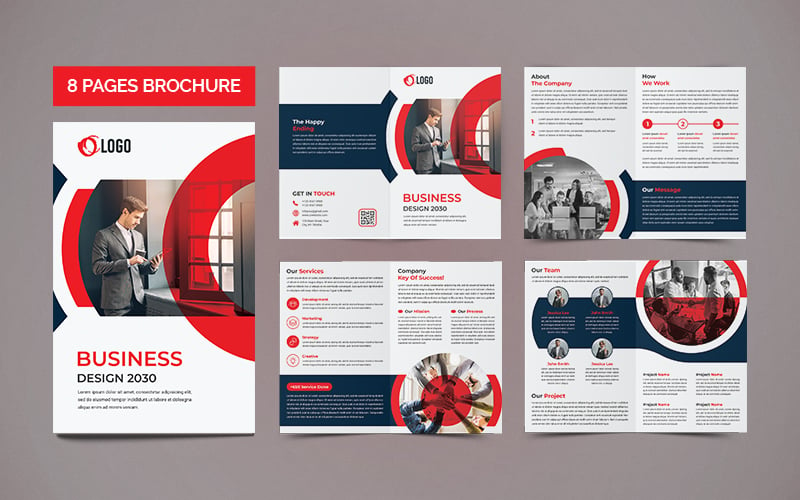 Abstract shapes in brochure design
Abstract and Modern Colorful Brochure Design Template with Gradients
Modern Blue and White Company Brochure
Creative Yellow and White Brochure Design Template
This is a Landscape Brochure For Corporate Business created with Adobe InDesign CC2019. This template download contains 300 DPI print-ready, CMYK, INDESIGN & IDML files. All main elements are editable and customizable.
The triangle symbolizes stability, harmony and purpose, with its base immovable on the ground. The upward pointing triangle can represent the sword or masculinity, also the astrological fire signs.  The downward pointing triangle signifies femininity and also represents the astrological water signs.
Shoreditch Letting Brochure -Triangles are used in different orientations and different textures (even triangles within triangles!) and colors throughout the brochure to break the monotony of  text and give the brochure an avant garde look.
Tactix Credentials Brochure  Source  Colorful geometric shapes give a dynamic look to the brochure and echo the colors in the logo. White space provides readability and contrast.
Today in the age of technology, retro styles are still in vogue. We are seeing a resurgence of geometric shapes in graphic design – an influence of the art deco style that once ruled the 1920's and  made a comeback in the 1960's.  The art deco style with its mix of ornamentation and simple forms grew out of the wealth, power, luxury and speed of the Roaring 20's and the  functionality and simplicity of post-war austerity. It drew its inspiration from the machine age while breaking traditional art barriers. Art deco was characterized by geometric shapes, streamlined forms, bright colors and influenced other art styles like Pop Art. We see the impact of art deco styles in the geometric art used in many of the brochures below.
C & EN Media Kit  Die-cut covers reveal bright colors while keeping continuity in these corporate brochure designs with a technological feel.
Konami Gaming Brochure Source This colorful, attractive 3-D pop-up brochure was used to promote Konami's interactive games.
Pregrado Papercraft Brochure Source   Who doesn't love paper art?
Adidas Brochure Source   The form of this brochure takes circular and square shapes and hints at the futuristic design of Adidas shoes.
Leporello Street Art Design Source  This brochure has the free-flowing feel and energy of street art while circles and squares organize the content.  Blurbs symbolize the thought process, the imagination and energy that goes into creating a work of street art.
Inward Mission Event Brochure  Source   Color, contrast and texture: black makes a rich contrast with silver and gold in this minimalist brochure cover, while circles and bold fonts convey important facts in the inner page.
Brookfield Multiplex Corporate Brochures  Vivid colors  contrasting with black and white photography make this an elegant, minimal and economical brochure design.
This is Creative and Minimalist 16 Pages brochure, perfect for any personal or corporate use. ideal for any company project. You can edit easily this Brochure, 100% customizable, All objects are resizable, with no quality loss, removable and editable.
MOMA (Museum of Modern Arts) Brochure Source  This is the inside of a five-page fold-out brochure for the museum, with colorful illustrations and photographs arranged with text in a grid, balanced by a retro-style blue-and-white photo collage at the bottom.  The grid helps to balance the design and arrange the content while neatly presenting a wide variety of art, images and text in a poster-style format.
Fabriquem Emocions Brochure Source   This brochure uses icons, graphics and blurbs to visually communicate the process flow in a factory in an infographic.
Acorn family of companies brochure Source   This tabbed die-cut wave-form brochure neatly categorizes different companies in the group and their activities.
 Magazine Cover and Spread  Source  Black and white photography and black graphics against bold yellow makes the cover stand out for the "Toronto Lifestyle & Culture for the Young & Creative". It offers its young readers inspirational reads.
Lake Shore Brochure Source   The bespoke typeface was inspired by the modern
Pop-Art Gallery that was housed at this building.
 Ikea Flat Pack Direct Mailer Source   Furniture pops up to make a style statement in an ordinary brown paper cover that looks like a package.

Haworth Seating Brochure Source   Bright color gives a modern look to the chairs.
Que Sou Eu – Who am I? Personal Infographic  Source  A visual bio presents the artist's illustration, infographic skills and background in a distinctive way.

Special Issue Taiwan Design Expo 2013 – Source  The cut-out shapes give a 3-D look to this brochure  for a design expo.
Driven –  Marketing Brochure Source    Red circles on beige and black along with photographs of sports promote the expertise of a company pushing the limits to perform excellently in local and global markets.   Circles symbolize infinity (no beginning or end), unity and wholeness.
SDA Cafe Brochure Source   Photographs of coffee and snacks on background swirls and splashes of coffee, give an informal look to a brochure that appeals to those to live and thrive on the cafe life.
Ewaan Brochure  Source    This brochure uses hexagonal shapes to convey the care
and craftsmanship involved in creating real estate projects that  shape communities.
Tourist Guide Brochure Source Geometrics take center stage in this brochure.
UNIMELB Brochure Source  Geometric folds on textured paper symbolize the many facets of the University of Melbourne's special programs in this brochure.
Window Llight Studio Brochure  Source  This windmill style brochure catches the eye with its many colors and folds.
Auckland Zoo brochures.  These brochures have a unity in design in the wave shape in different colors, rectangle, silhouetted animals and semi-circular  cutout shapes.  The covers allow variation in the accent shapes of circles, icebergs, rainclouds while keeping the wave constant in white, perhaps to show how animals and birds alike depend on water. The focus is on the unique animals that are showcased in each region.
Design Futures Exhibition Materials Brochure Source  Geometric shapes lend movement and energy to this brochure while text stands out on the neutral color grey.
Ikea Brochure Source  Nature and spaces are elegantly portrayed in this brochure where everything you need is under one roof.
Ideo Lab Brochure Source   Geometrics, white space and images of people at work combine to convey the feeling of ideas stretching into infinity, taking shape in a lab.
Harley Davidson Brochure Source   A leather cover with zipper evokes the look of a typical proud rider on a Harley Davidson bike.
Altus Pop-up Brochure Source    This unique brochure uses pop-ups to help the reader imagine the style of living s/he can expect at a new condominium project where no images of the development are used.

Astray Travel Co. Brochure Source  These travel brochures are categorized by region, season and trip style and slip into a neat folder that promotes the company.
Kaleid Arts Culture Magazine  Source  This distinctive design draws inspiration from a kaleidoscope, which is the basis for the shape of the Kaleid logo.
Spencers Crossing Brochure – designed as a childhood favorite game to play, has a retro look.  Source
The Silhouette Brochure   Yellow, black and white make a striking contrast in this sophisticated brochure  along with dramatic photographs of adventure sports.
Absolut Vodka Brochure Source   The well-known shape of the Absolut Vodka bottle is the inspiration for a unique brochure.
Foliomania the Design Portfolio Source    This eye-catching design in a grid format uses colors in a pleasing combination. It is irresistible to the viewer and makes him want to open the book.  The portfolio presentation inside also follows a grid format with colorful squares to display the text.
Make your brochure a powerful sales and communication tool. Read more about creating visual appeal while you sell with well-designed brochures here.
Would you like us to custom-design a brochure for you?  Contact us now!
Take a look at some of these ready-made brochure design templates that you can buy and customize according to your own requirements.