Geometric, organic and abstract shapes make Powerpoint, Keynote and Google Slides templates come alive.
Shapes enhance presentation design. They add an innovative and modern touch to clean and minimal design.
Designers need shapes in design to:
Organize information through connection and separation
Lead the eye from one design element to the next
Symbolize different ideas; simplify complex ideas
Create movement, texture, and depth
Convey mood and emotion
Provide focus and emphasis on areas of interest
---
Many designs use a combination of different shapes to communicate – geometric, organic and abstract.
For instance, a logo may use a triangular shape while rectangles and squares are used in the design, and icons within the buttons use abstract shapes.
The symbolism of geometric shapes
Shapes with straight lines and angles generally symbolise structure and order, while shapes with curves are softer and represent connection and community. Generally speaking, angular shapes are more aggressive and masculine, curved shapes are more nurturing and feminine.
Types of geometric shapes
Triangles
Triangles naturally draw the eye from the widest part to the pointed tip like an arrow, and serve as directional and navigational tools. The shape relates to masculine ideas of strength and angularity, and when it rests on its base it shows stability and power.  In religious symbolism it stands for the Trinity.  Visual interest can be created with several triangles arranged together in a block-style grouping using different colors.
This  modern, customizable Google Slides design uses a pyramid formed by triangles  for the logo and triangles in the design, both downward pointing and upward pointing triangles to guide the line of sight.  The triangles form diagonal lines that divide text content from images, so that the rectangular grids of the slide layout are given a visual break.
2020 Business Ideas Google Slides
The clever use of three colors  gives a 3-D feel  to the hexagons in this design, creating pyramids from triangles, which also shape arrows  that  lead the eye to visuals.  Triangles also form rhombuses or buntings.  60 unique slides customizable with One Click color changer. More than 150 colors options.  Smart charts, infographics included.  Fully editable, just drag and drop images. Parallax animations.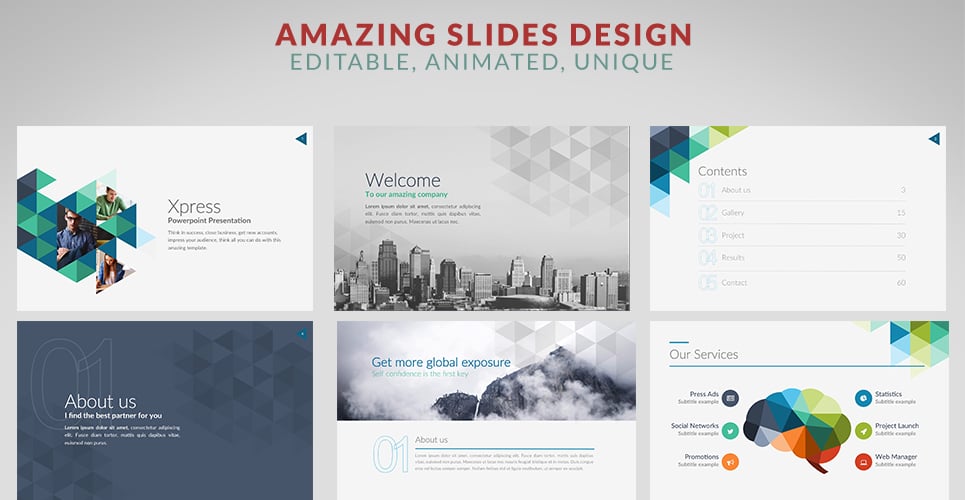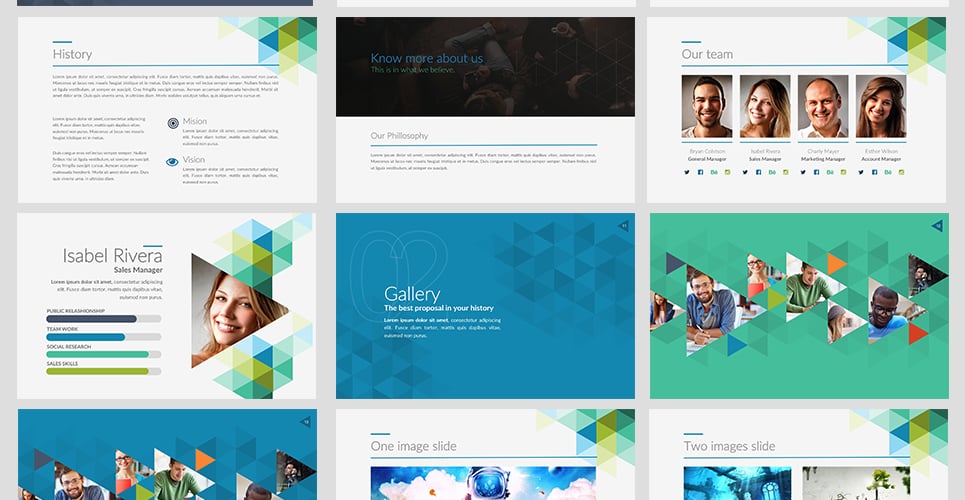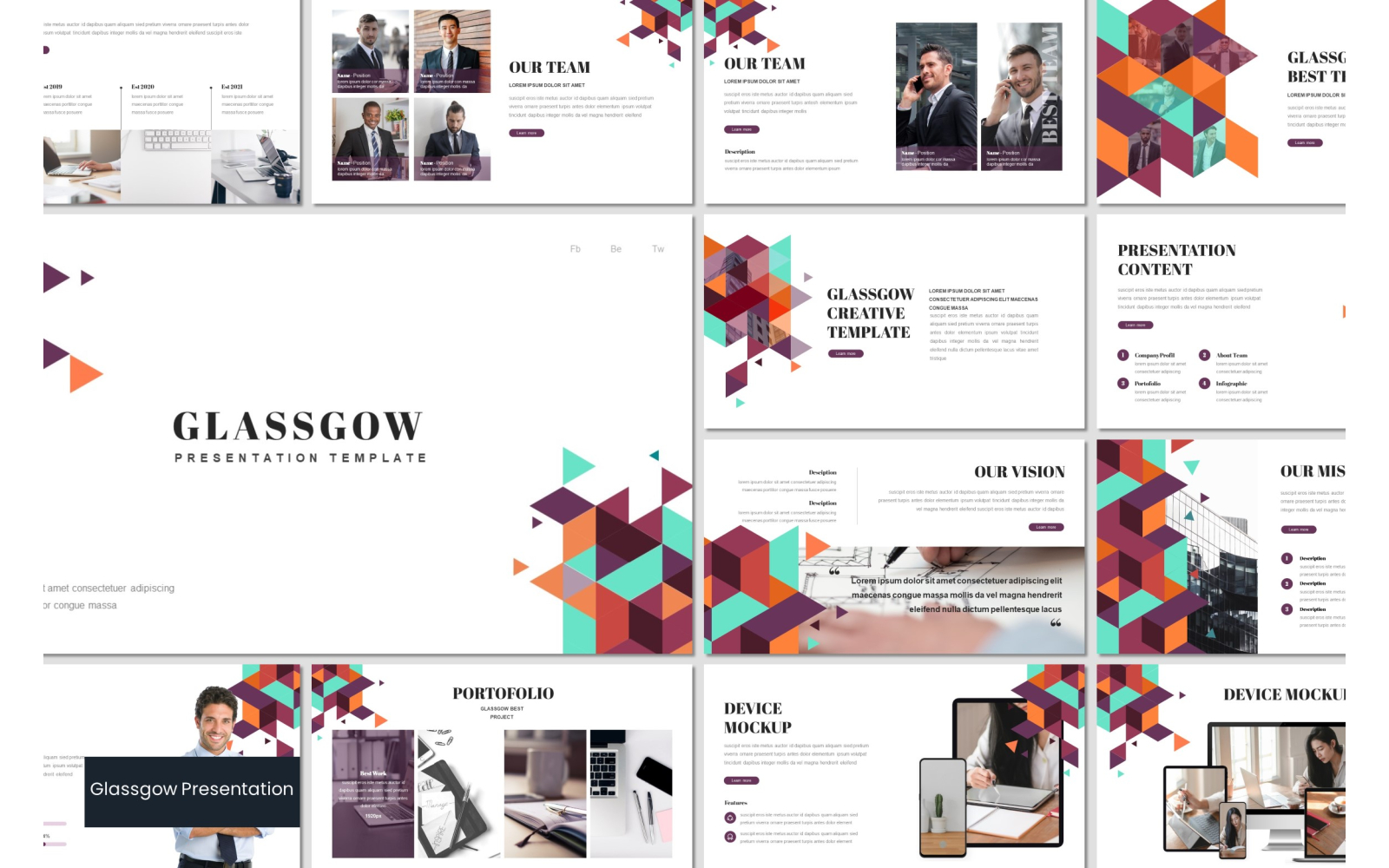 Cubes
Diagonals
Diagonals cut the formality of the regular rectangular or square grid, bringing about a feeling of freedom. Diagonal lines naturally lead the eye to navigation and content.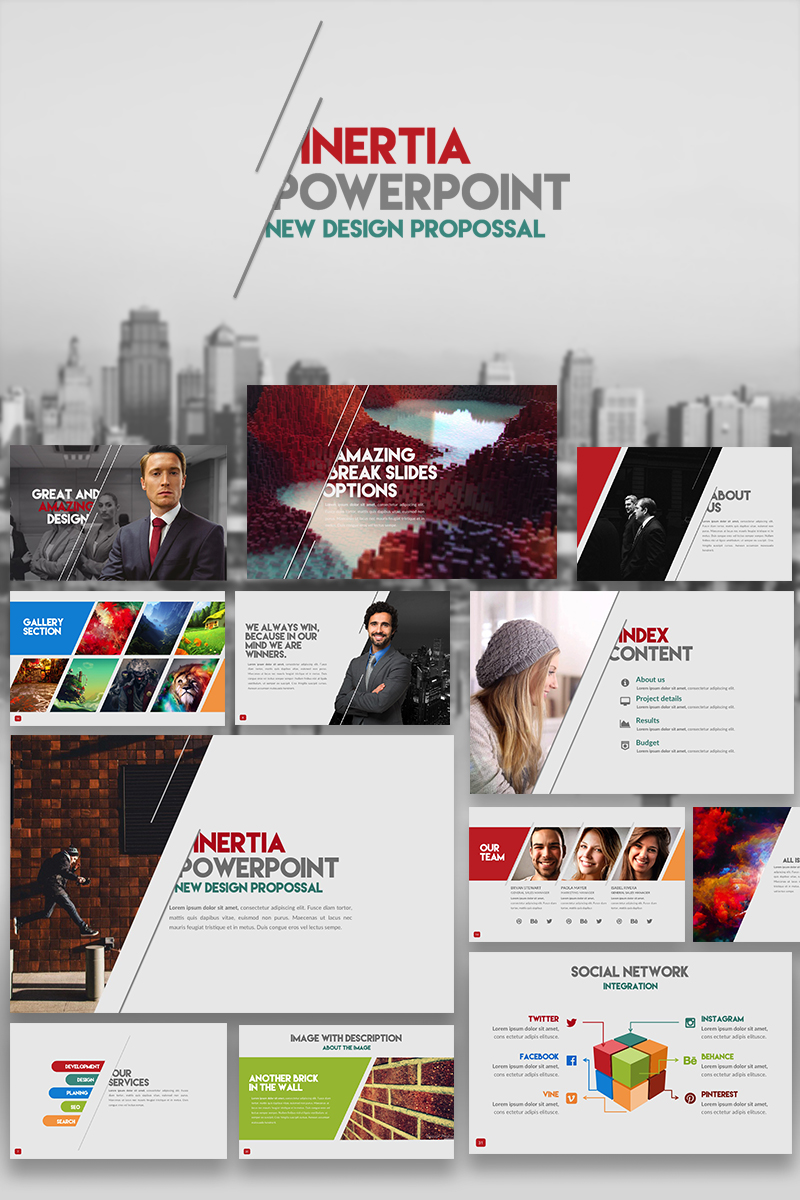 Fan-Ink Brand PowerPoint Template
Rectangles are the heroes in this design used with color to grab attention and interest. Triangles are also used in key slides to focus on the brand. This presentation template can be used for business and services, education and books, entertainment, games and nightlife, design and graphics, advertising and more.
Rhombuses
A rhombus is a flat shape with 4 straight sides that are all equal length.  Its opposite sides are parallel and opposite angles are equal. It is a type of parallelogram. A diamond is a type of rhombus.
Rhombuses can be used as separate elements or in an interconnected pattern with other diamonds or with triangles, lines, hexagons and other shapes.  Diamond grids form an elegant preview of images for portfolio presentations and have a smart and contemporary look.
Creative Business PowerPoint Template
Rhombuses are used in color, with images and in hollow form, with shadows creating the impression of 3D depth, with arrows, triangles and diagonals in this PowerPoint template  to create an image of an organization on the move.   Rhombus- shaped icons complete the  21-slide template.   All slides are resizable and editable.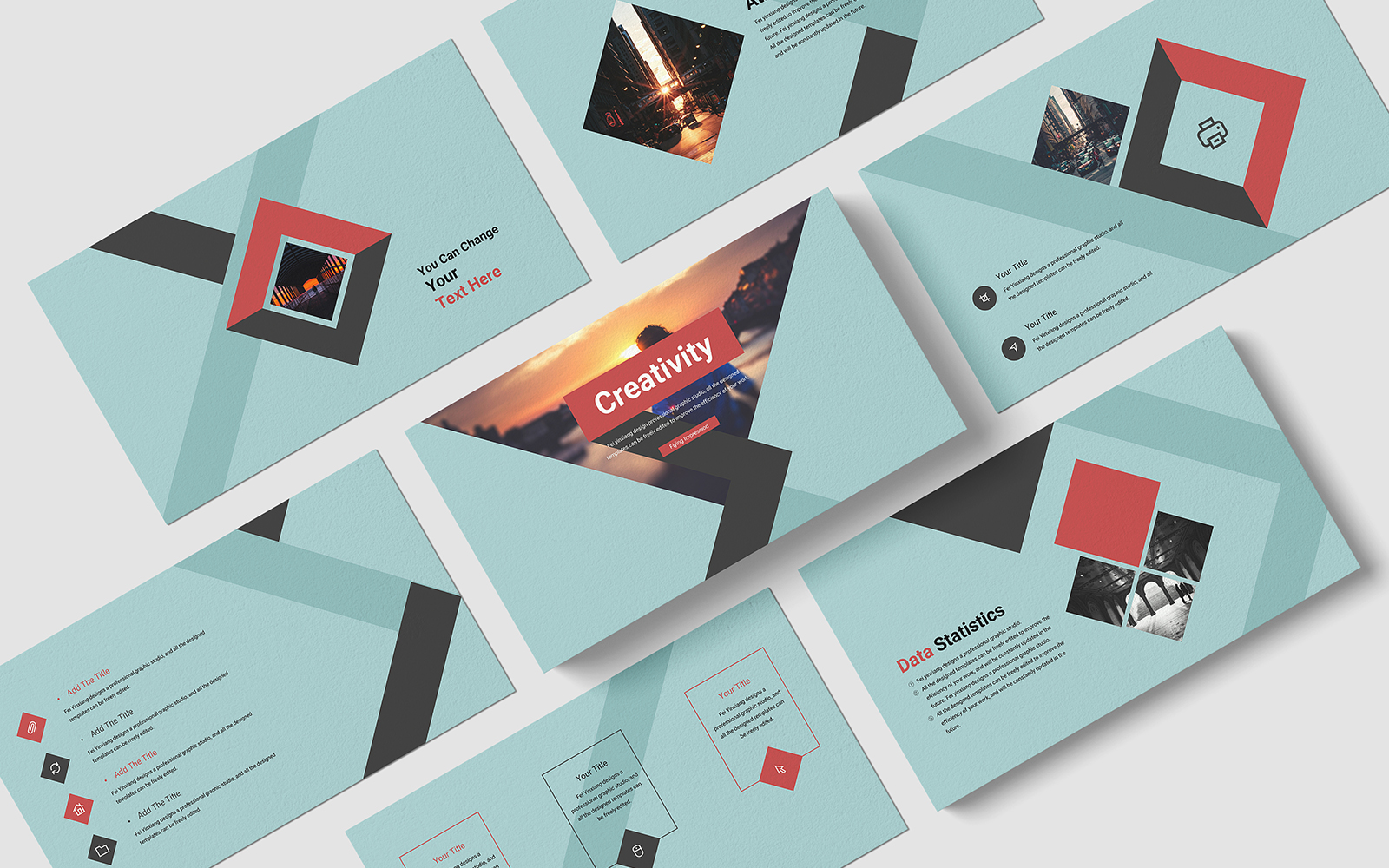 This design uses a rhombus grid in light and dark shades to neatly display images and icons on green buttons, in this minimalist, professional 30-slide PowerPoint presentation template.  When enlarged, part of the rhombus goes out of the rectangular frame and its sharp edges are defined by red lines to form an arrow, focusing attention on the logo.
Moor – Creative Keynote Template
Rhombuses and rectangles are used effectively in this elegant  minimalist Keynote drag-and drop template of 30 slides, customizable for any business purpose.
Red and  grey rhombuses and rectangles create a dramatic Keynote template of 30 slides, customizable for your business.
Hexagons
Hexagons are six-sided figures beloved by nature. You find them in beehives, in snowflakes, and the awe-inspiring basalt columns of the Giant's Causeway in Northern Ireland.
Two equilateral triangles form a six-pointed star with a regular hexagon in the middle. Six points of the star are formed by six triangles.
Hexagons are an efficient way to build.  And to build a presentation idea, step by step, using the six sides of a hexagon to explain related concepts, and then to build upon those concepts with other related concepts.
Point – Creative PowerPoint Template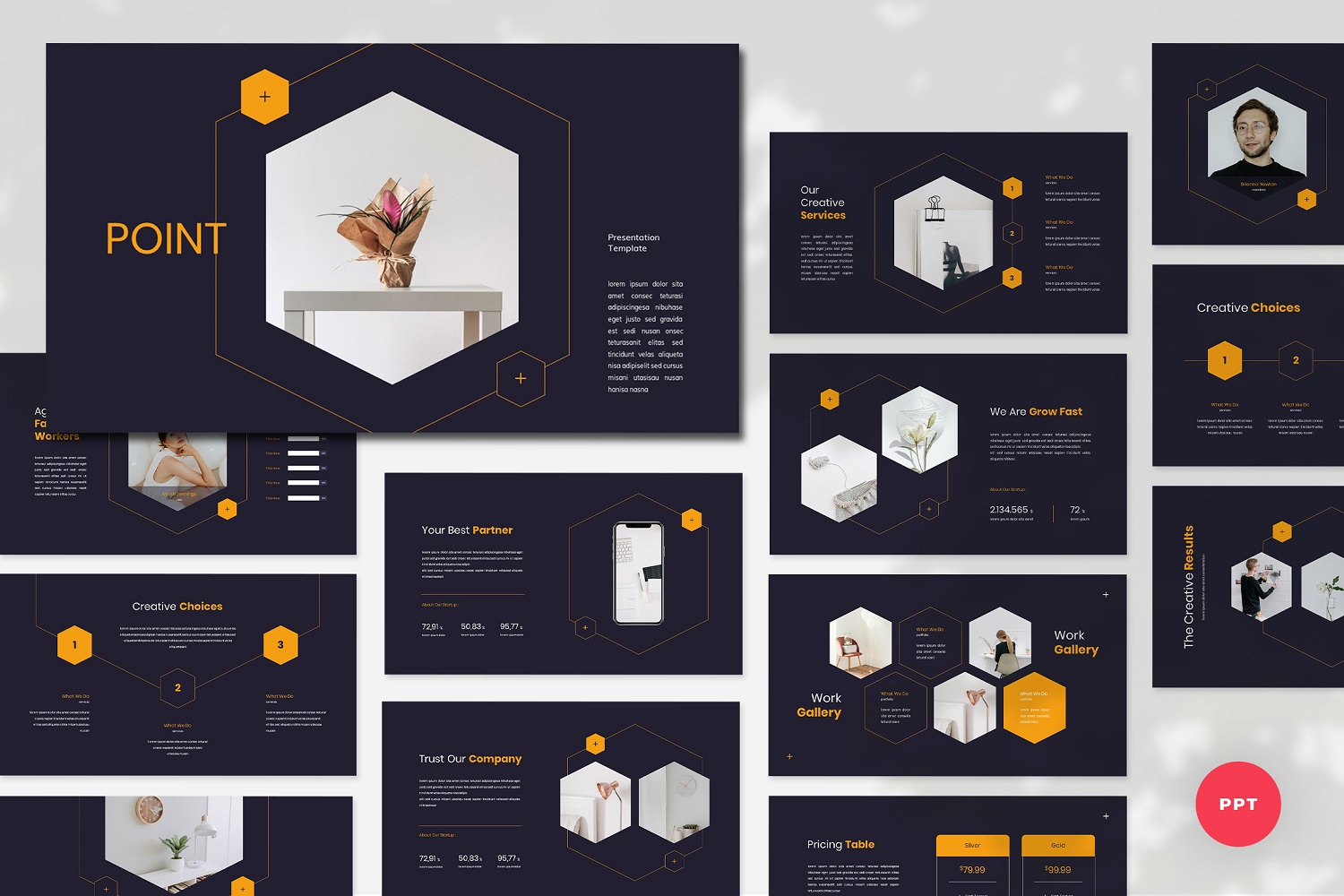 The sunshine yellow of this presentation theme using hexagons is instantly attractive to all, and recalls the power and energy of the sun.  Larger hexagons call attention to the most important elements, while the slightly curving outer shapes imply growth and flexibility.  The smaller hexagons with the yellow accent lines framing their left sides  with arrow shapes show the relationship of teams to their team creator, who is highlighted inside a bright yellow hexagon. Use the presentation for a creative studio, business enterprise or personal presentation.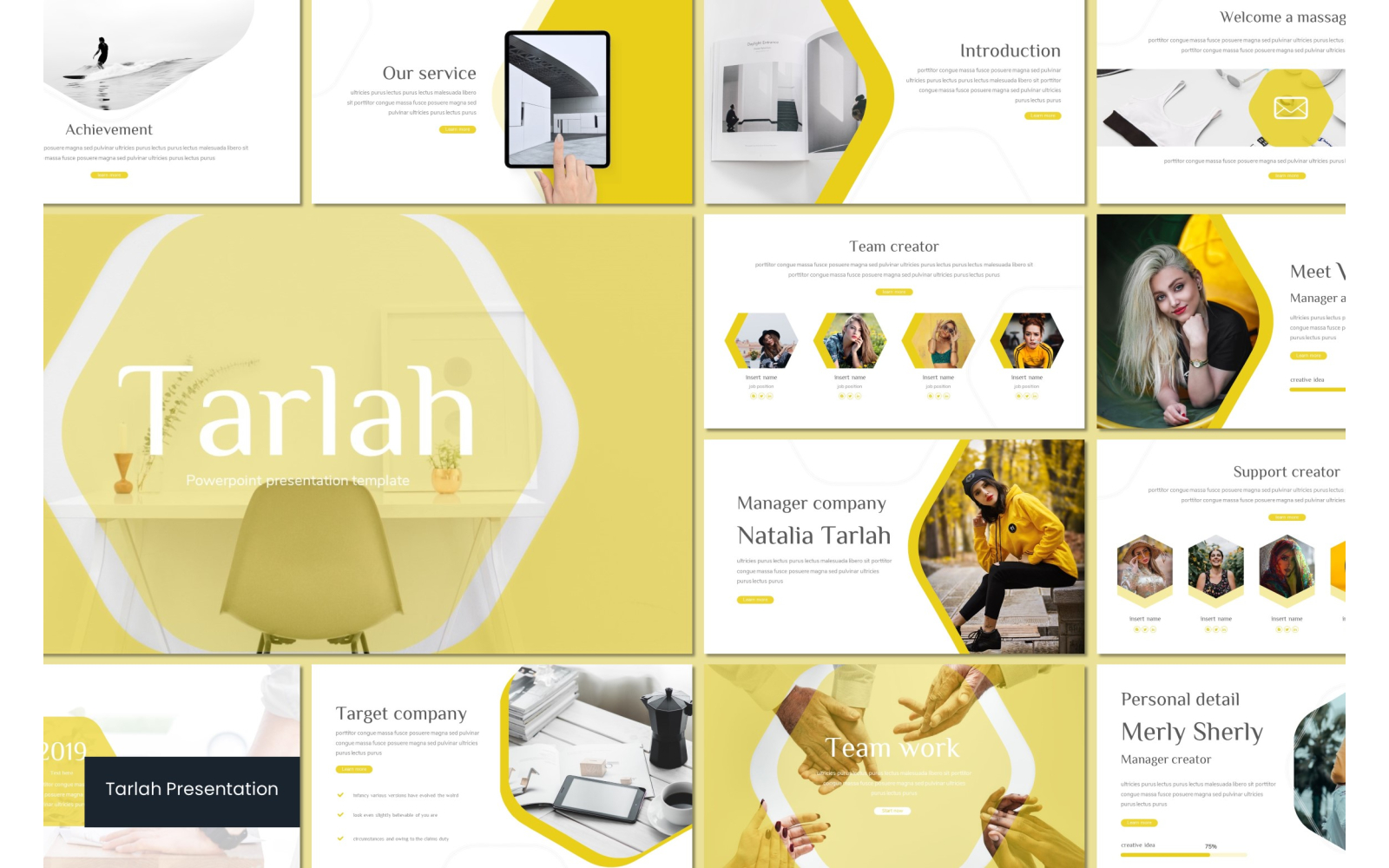 Minimal Template Google Slides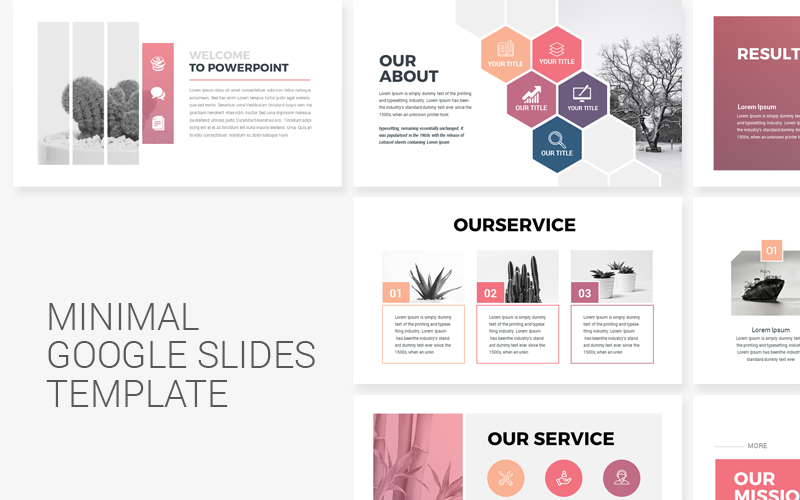 Rectangles and Squares
Rectangles and squares are formal shapes with right angles, suggesting conformity, stability, solidity, peacefulness, security and equality.  Rectangles are the most commonly used shapes in design. They lend structure and order to content.  We see them in newspapers, web and presentation grids, textbooks, portraits, and brochures.
These shapes may tend to get staid and boring. However, designers with inspiration can break out of the mould by playing with images, varying their sizes, textures and colors and interspersing other design elements.
Full Color – Multipurpose PowerPoint Template
This striking Powerpoint Template uses rectangles in beautiful bright colors to highlight products while text stands out in white.
Earthy colors and textures with rectangles and squares are used effectively in this elegant catalog style presentation template for a fashionwear brand, beauty store or model portfolio for men or women.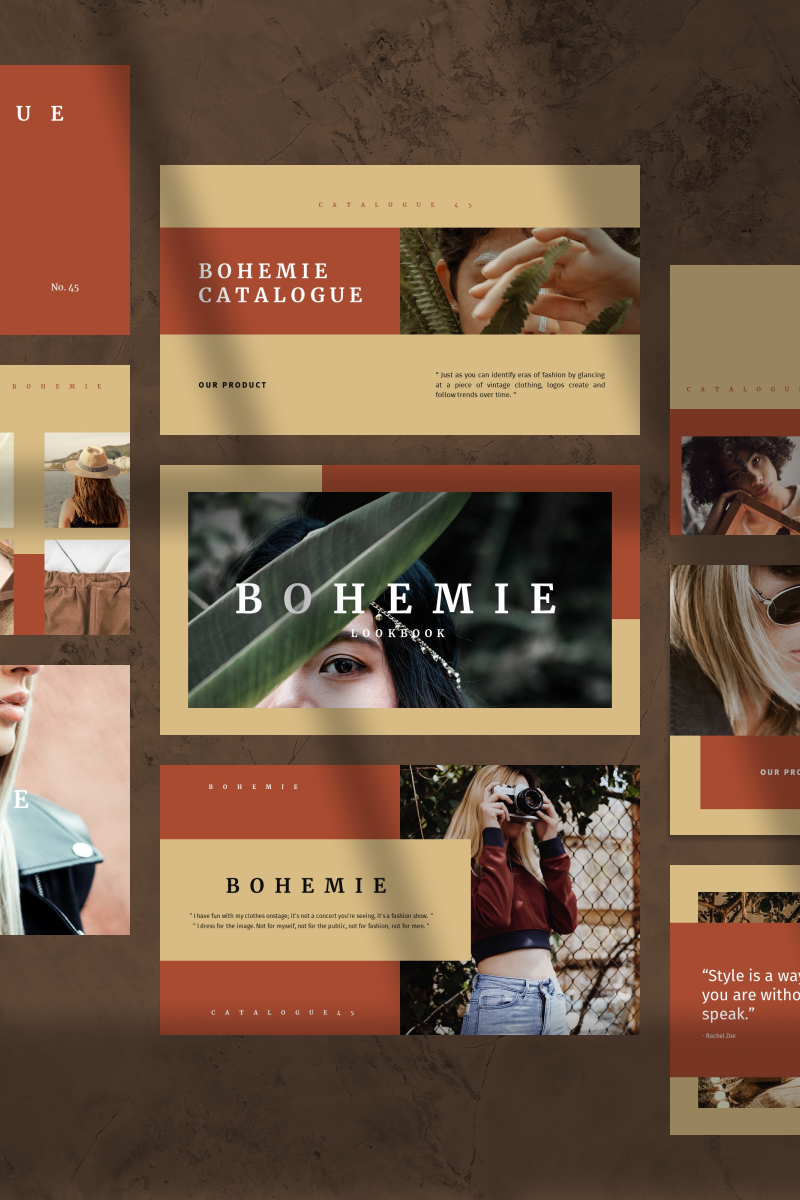 Rectangles call the shots in this colorful  and unique creative PowerPoint template, but don't miss the use of curves, circles, lines, frames, and other elements that lead your eye through text or from one frame to the next. Ideal for a design studio, designer portfolio, photographer, business, entertainment or media company, games and nightlife business or more.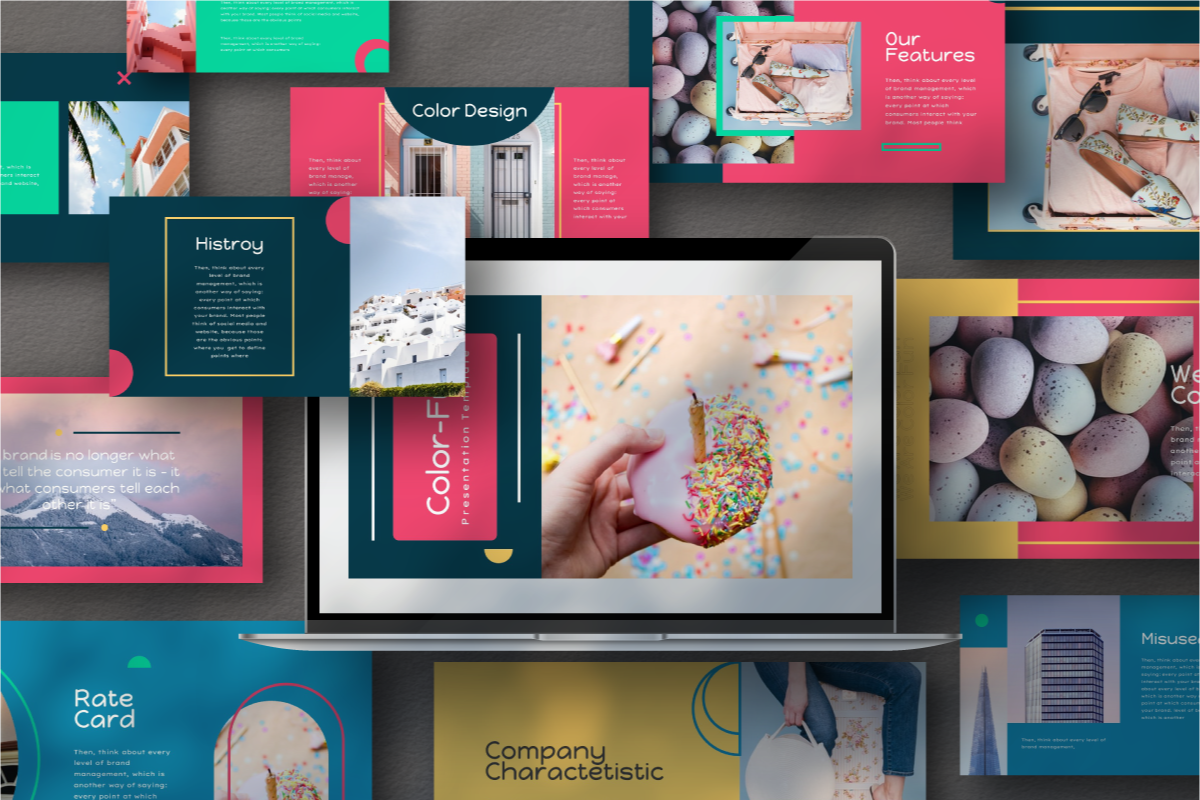 Circles
Circles represent wholeness and completeness, unity and infinity. Circles have no beginning and no end.  They may symbolise the sun, moon, the earth and the universe. They suggest energy, power and have free movement.  Lines and shading can enhance the feel of movement.  Circles are graceful, sensual, feminine and comforting.  Circles offer safety and connection.  They attract attention, provide emphasis and set things apart, which is why they are used in logos, icons and buttons, or in accent areas to highlight key elements.
The whole is more than the sum of its parts, is what this creative Keynote presentation says, boldly, using circle graphics as a theme, along with abstract shapes, negative shapes like silhouettes, color and whole or part circles, filled or hollow, to create movement and dynamism.   Images are merged with circles and used minimally to maximize impact and add value to text.
This presentation pack is ideal for a design studio, graphic artist, advertising agency , communications  or media company or business presentation.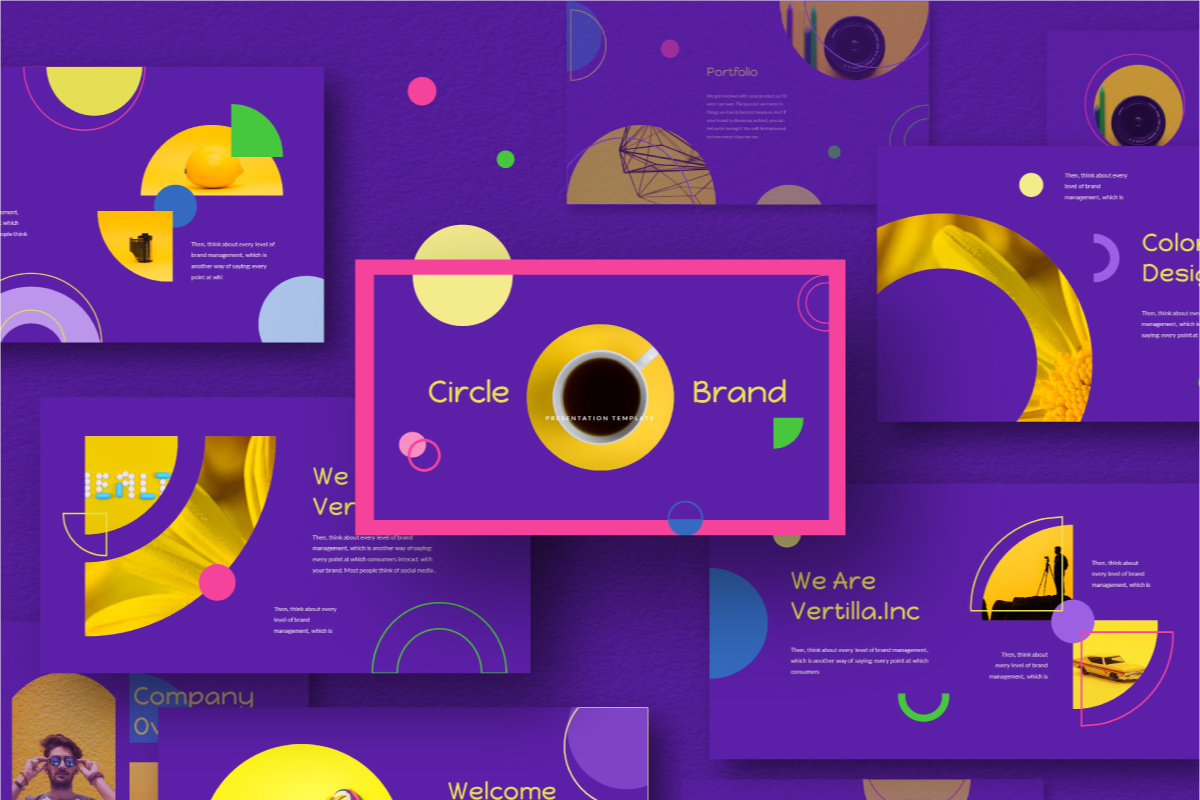 A striking and unique PowerPoint presentation design using circles and ovals, for a travel agency or business, advertising or many more.  30 slides, easily customizable.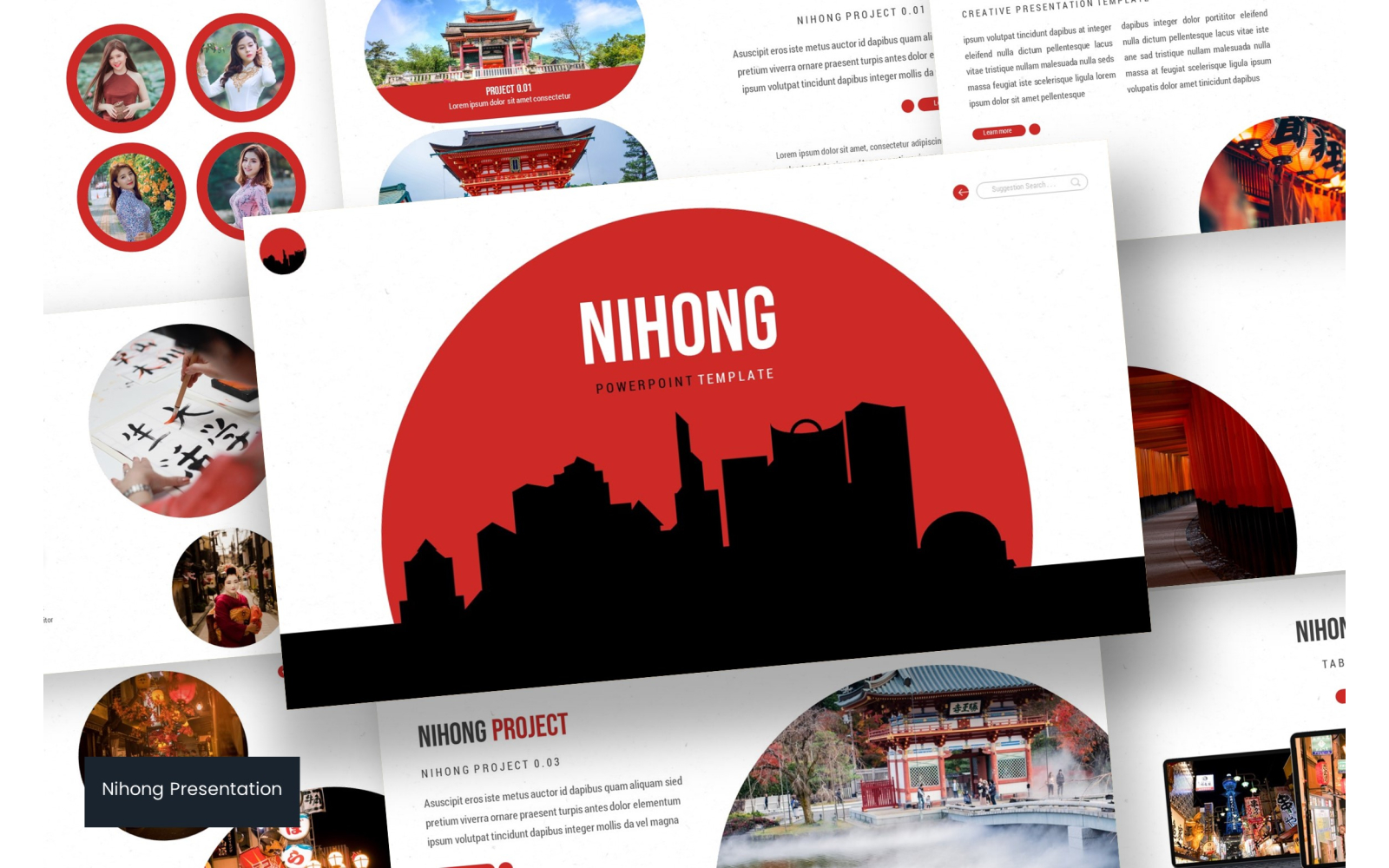 Circles in part and whole create an impression of movement and completeness, in this minimalist PowerPoint template.   Circles are also used with icons for the buttons. Use this presentation for a commercial enterprise, creative studio,for industry, or for personal use.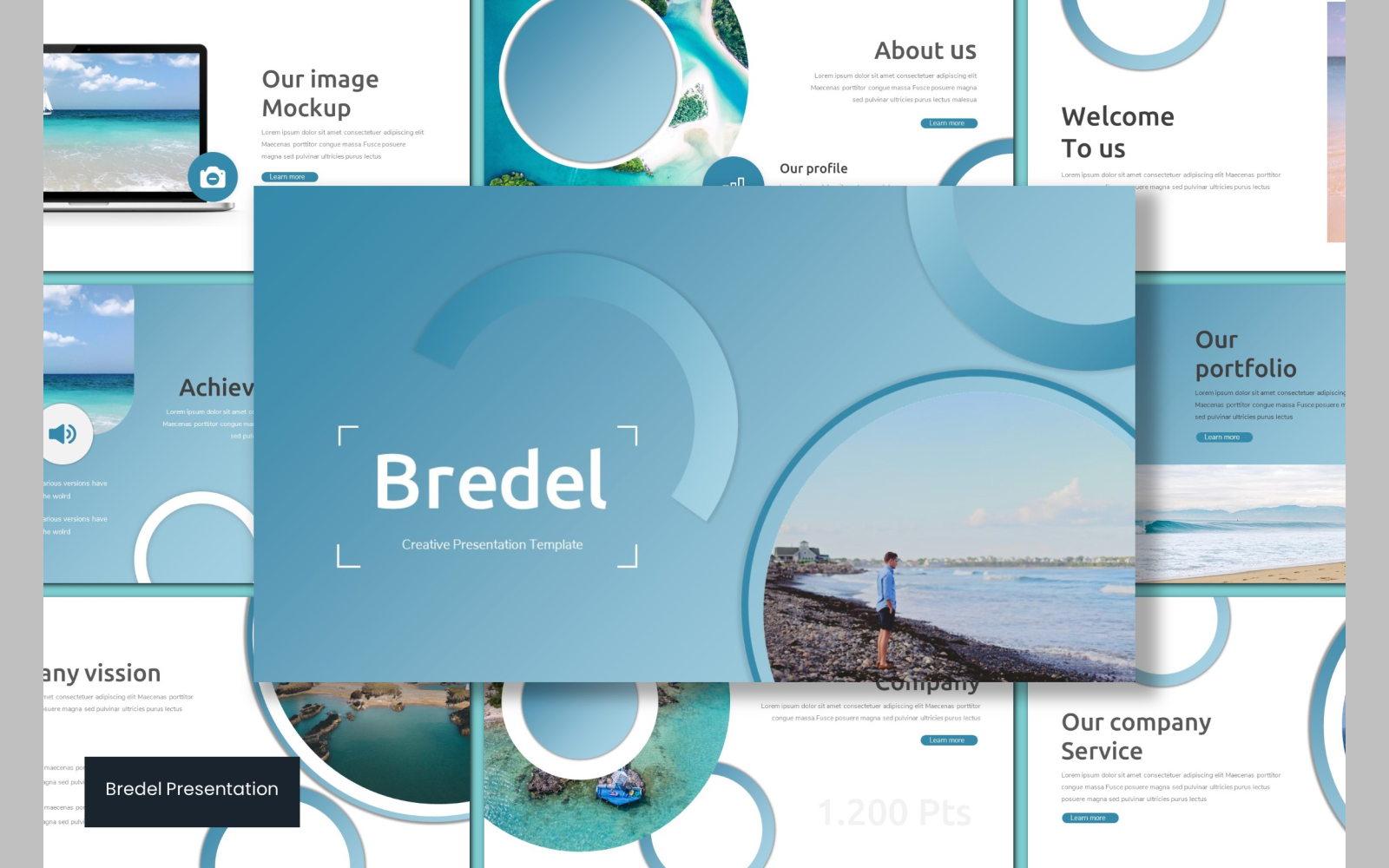 Geometric shapes in combination
Pastel Rainbow – Multipurpose PowerPoint Template
This multipurpose PowerPoint presentation design meaningfully uses several colors with geometric shapes  – hexagon, triangle, rhombus, circle, lines forming Xs and Vs, or forming arrows, leading eye movement.  It also uses shapes within shapes, to create a 3D look, like lines of cylinders arranged to form a rainbow tunnel, dots forming a rectangle; circles to highlight Strengths, Weaknesses, Opportunities, and Threats, rectangles and squares creating patterns, and more.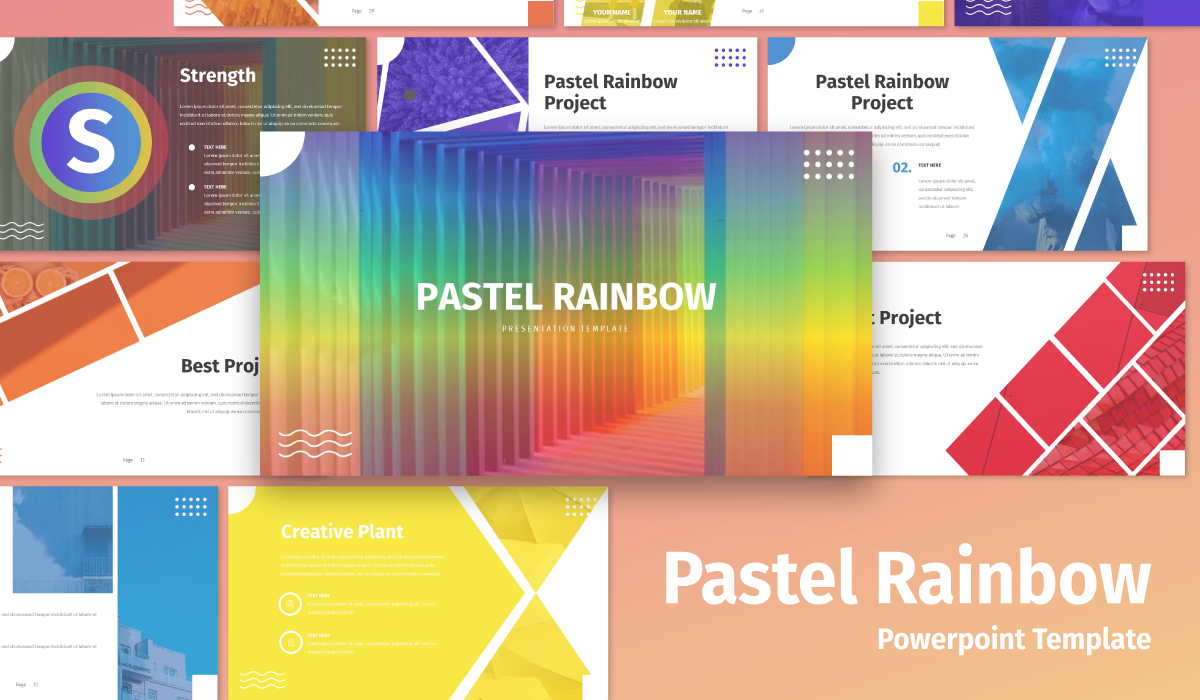 Innovation Creative PPT For Design Agency PowerPoint Template
This innovative PowerPoint presentation for a design agency or digital studio uses lines, squares, circles and rectangles in its design.  It contains 50 customizable slides, light and dark versions and a portfolio section.  Images are included.  5 color variations.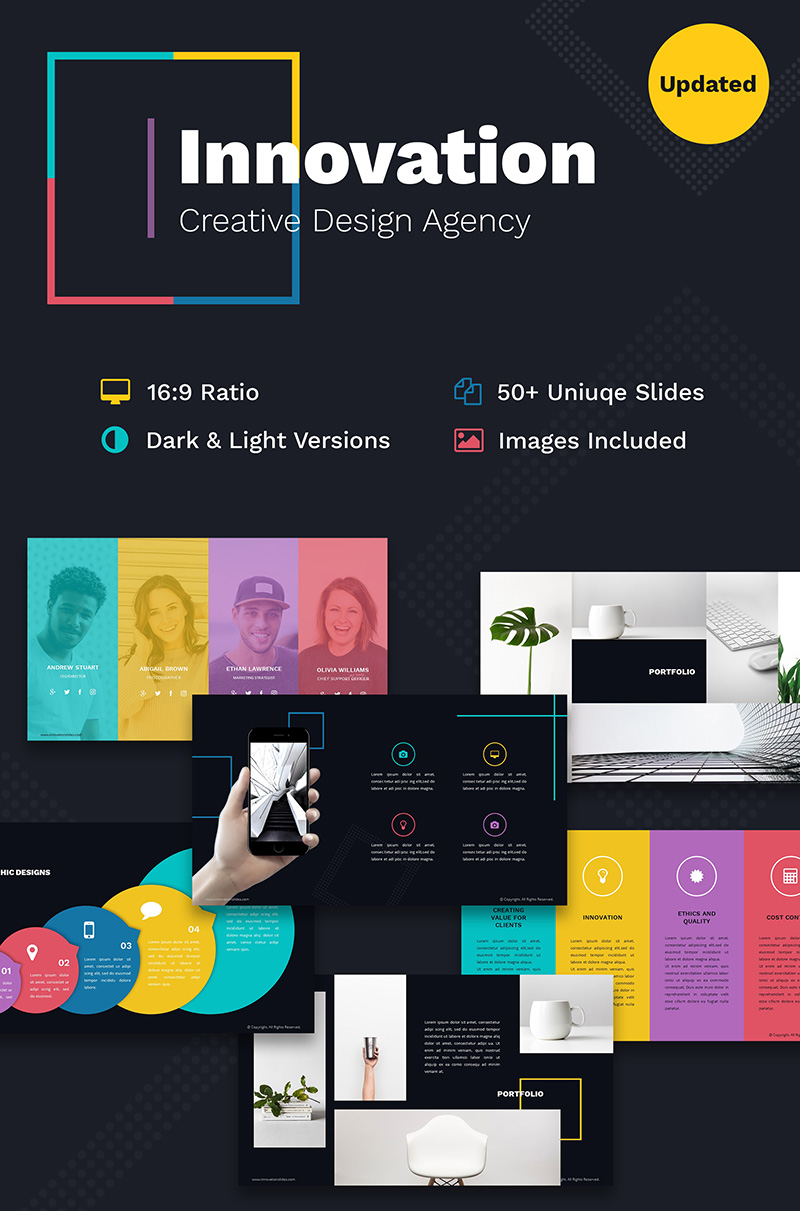 First Goal PowerPoint Template
This well designed Power Point design uses rectangles giving structure and order to the layout.  The rectangle standing on its narrow base has Vs pointing downward to form an arrow, calling attention to the logo.   In the About Us section the rectangle is horizontal and the Vs point right leading the eye to the more information.  A hexagon grid and a square grid neatly present content, images and icons. Content ''chunking" is done with blocks of color to make it easier for the reader to read content. Services are highlighted with icons. At bottom right is a slide with more icons with calls to action using a telephone dial as a visual device.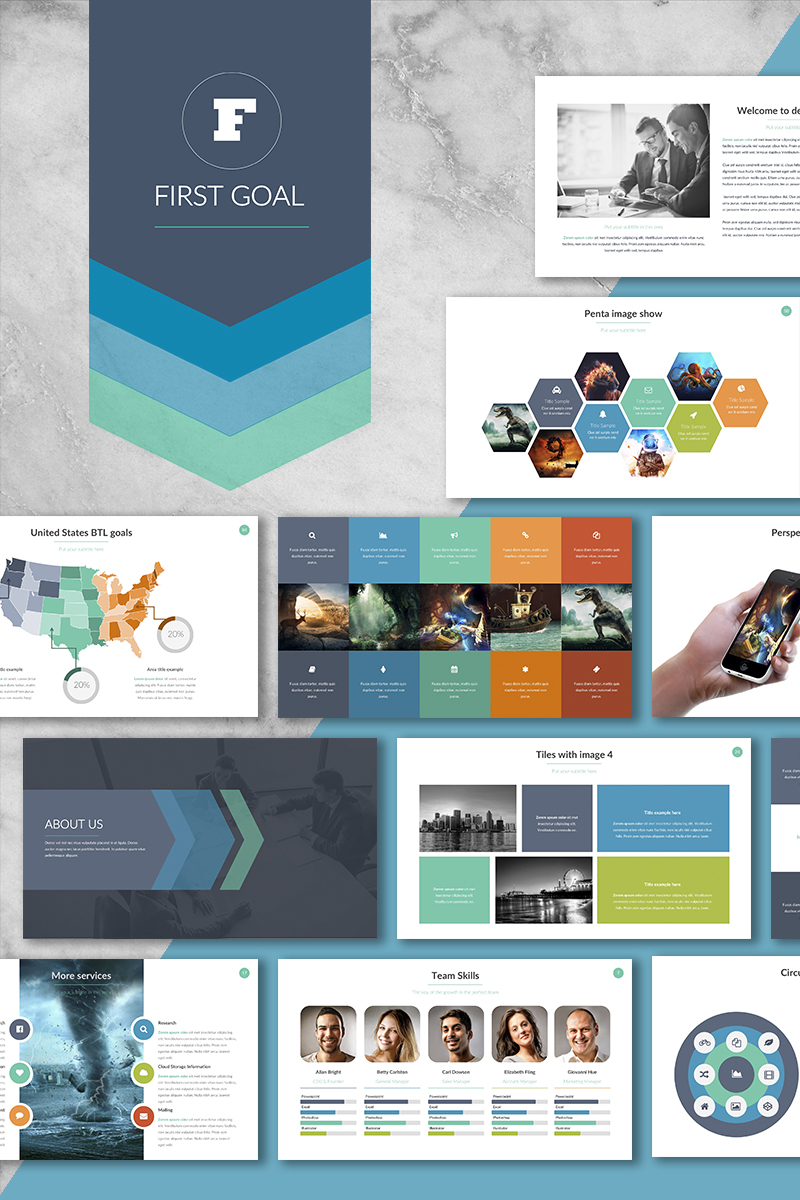 Clarence – Creative PowerPoint Template
Organic Shapes
Organic or free-form shapes are associated with things from the natural world, like plants or clouds and rocks and are more unstructured and free-flowing.
Examples of Organic Shapes in design
Luminate – Creative PowerPoint Template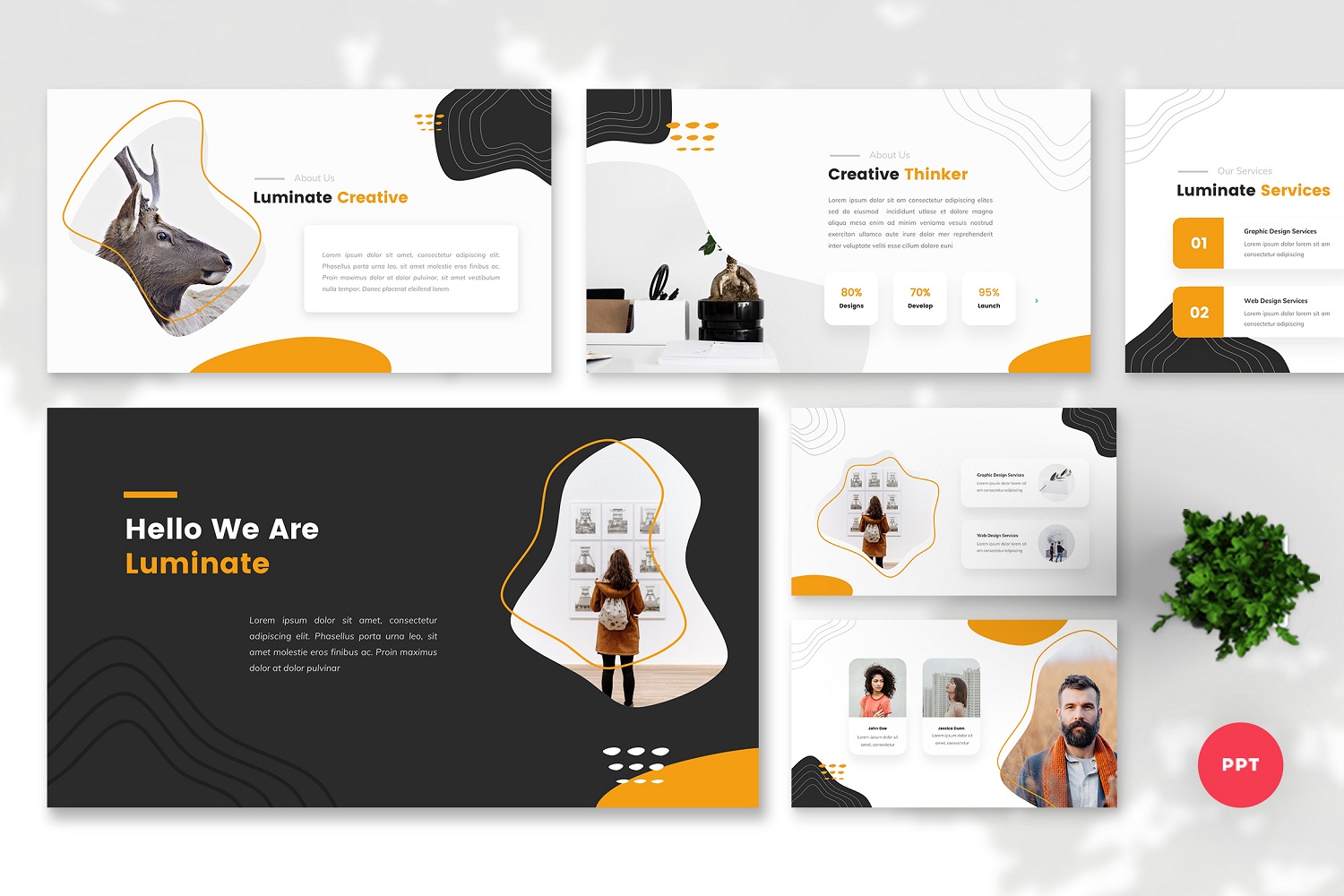 This PowerPoint presentation uses organic shapes and muted pastel colors that harmonize with nature. The shapes appear like leaves and rocks which are natural objects,  and are used to frame images or add depth and interest to them.  Real images and illustrations of natural leaves and plants are used to   heighten the effect. Use this template for a fashion brand or premium range of products using herbal ingredients, a personal or business presentation,  photography portfolio, business, proposal presentations.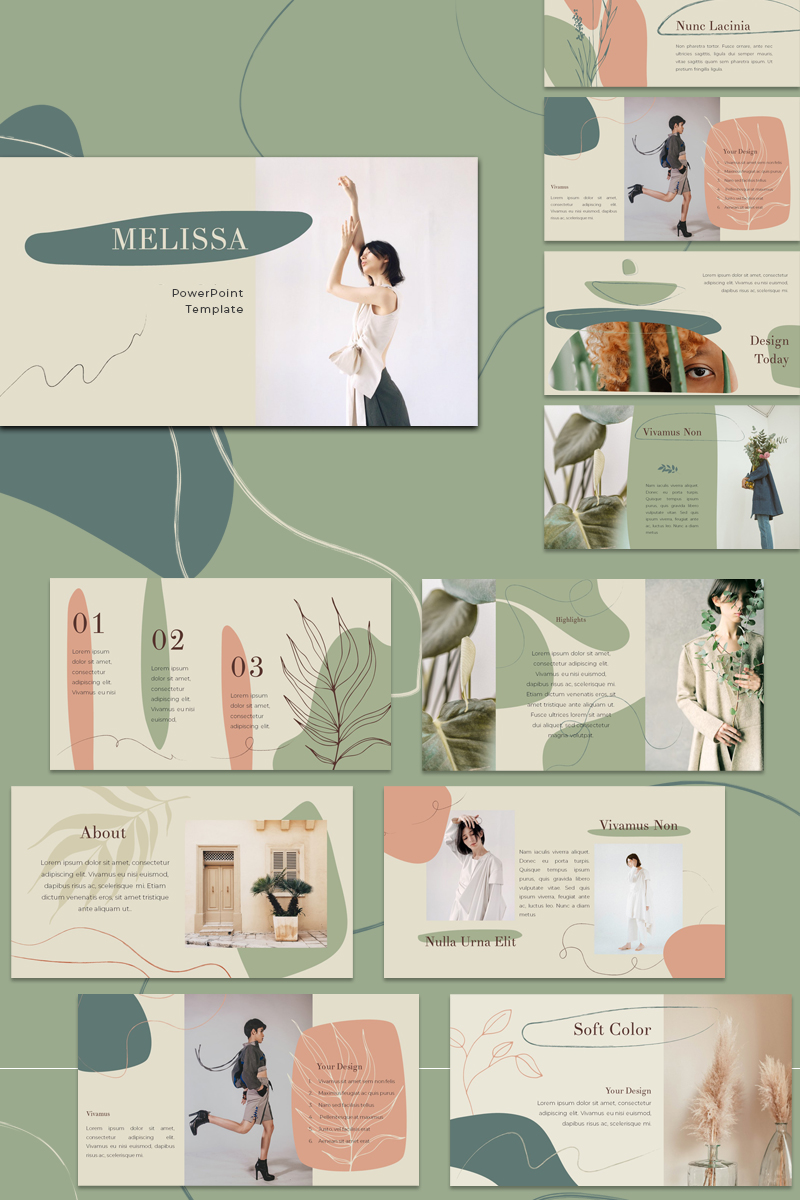 Creative Business Presentation Google Slides
This PowerPoint Template with organic shapes of color blobs has an informal style that implies fluidity and flexibility.  Use this presentation for business and services, graphic design or personal presentation.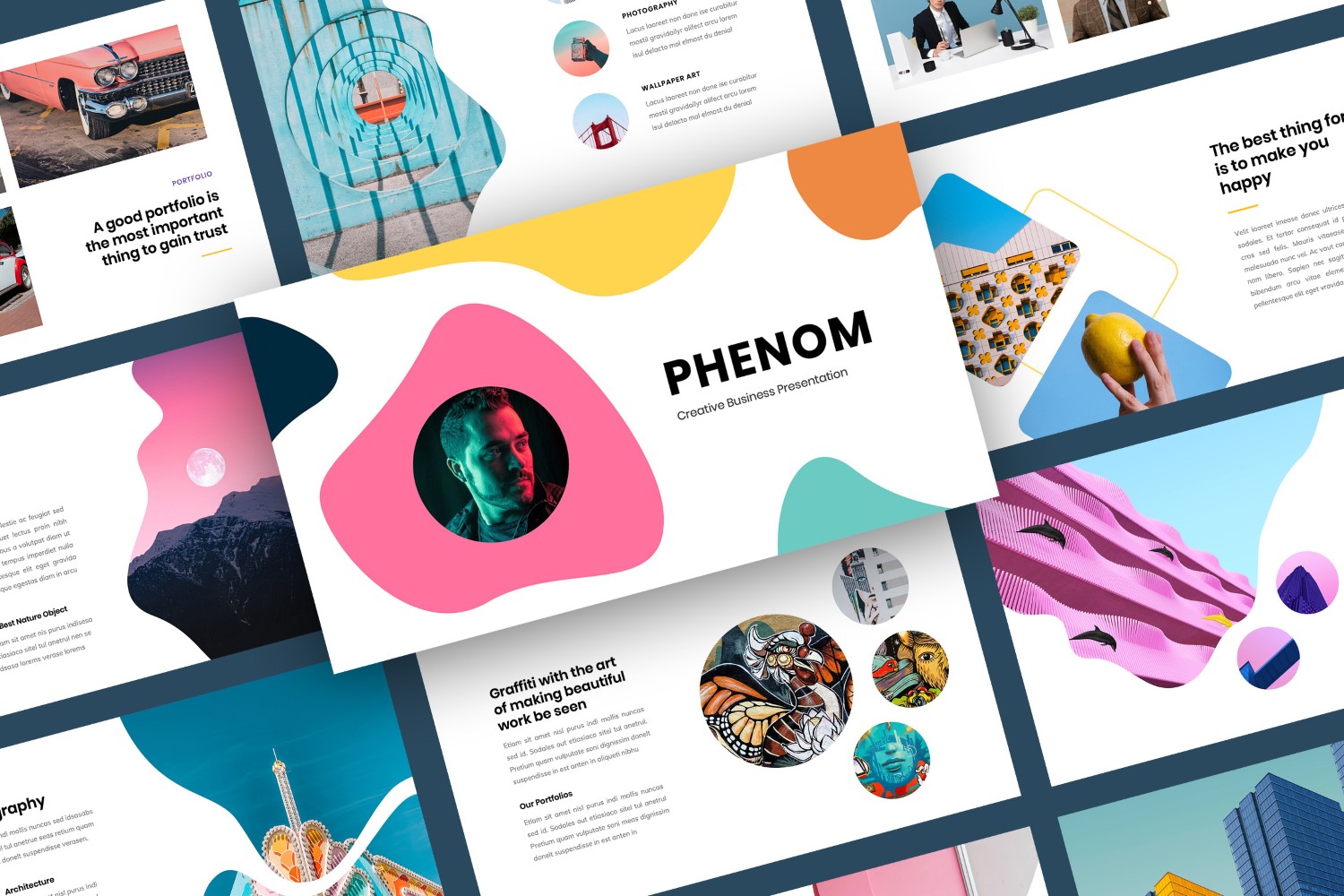 This is a multipurpose design with light backdrop and delicate natural patterns. It uses organic shapes with a bold leaf motif that provides a harmonious and healing touch, and sets off the images of the model to advantage.  Rectangles lend focus to key elements in design. This PowerPoint presentation template can be used for an elegant photography portfolio, business, fashion or proposal presentation or your personal brand.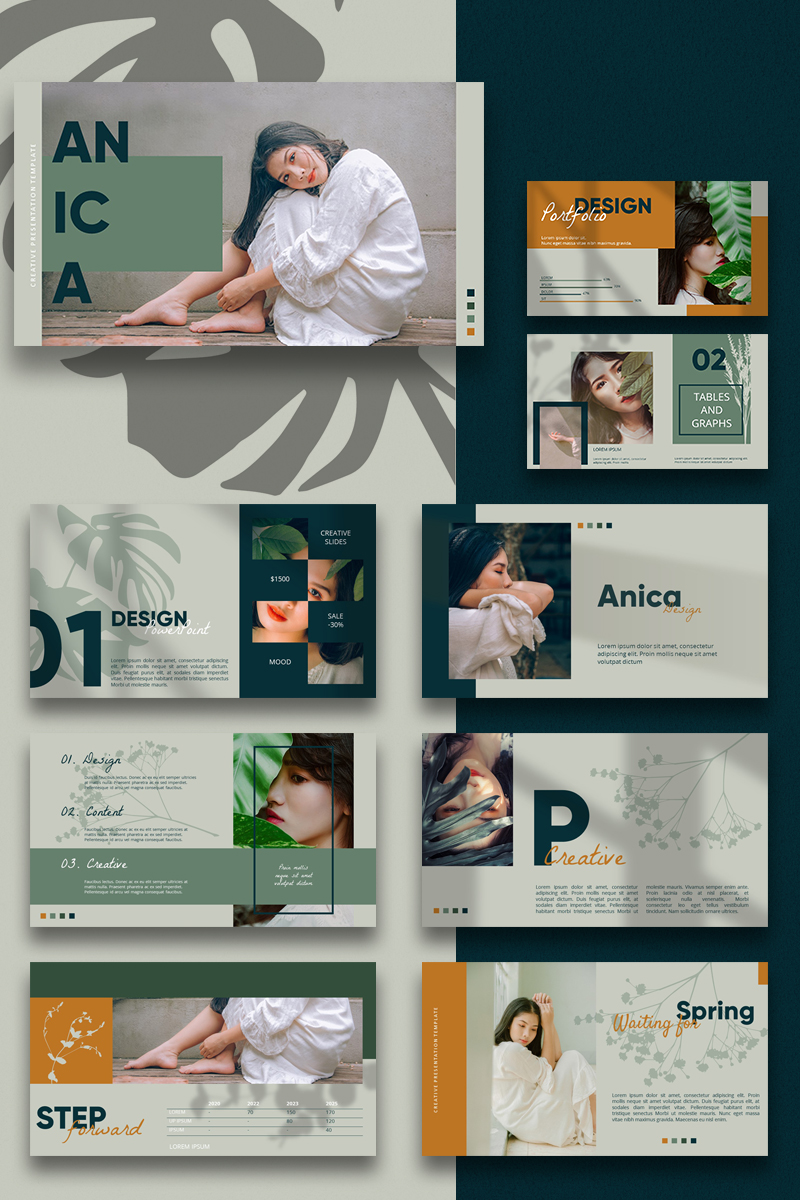 This eco-friendly PowerPoint template uses organic shapes of natural elements like a tree and leaves in negative silhouette on a green background and in circle buttons, in image form and in oval buttons in green with icons. Soft grey is used to highlight the green. Use this presentation template for the creative industry, creative industry, business or personal use.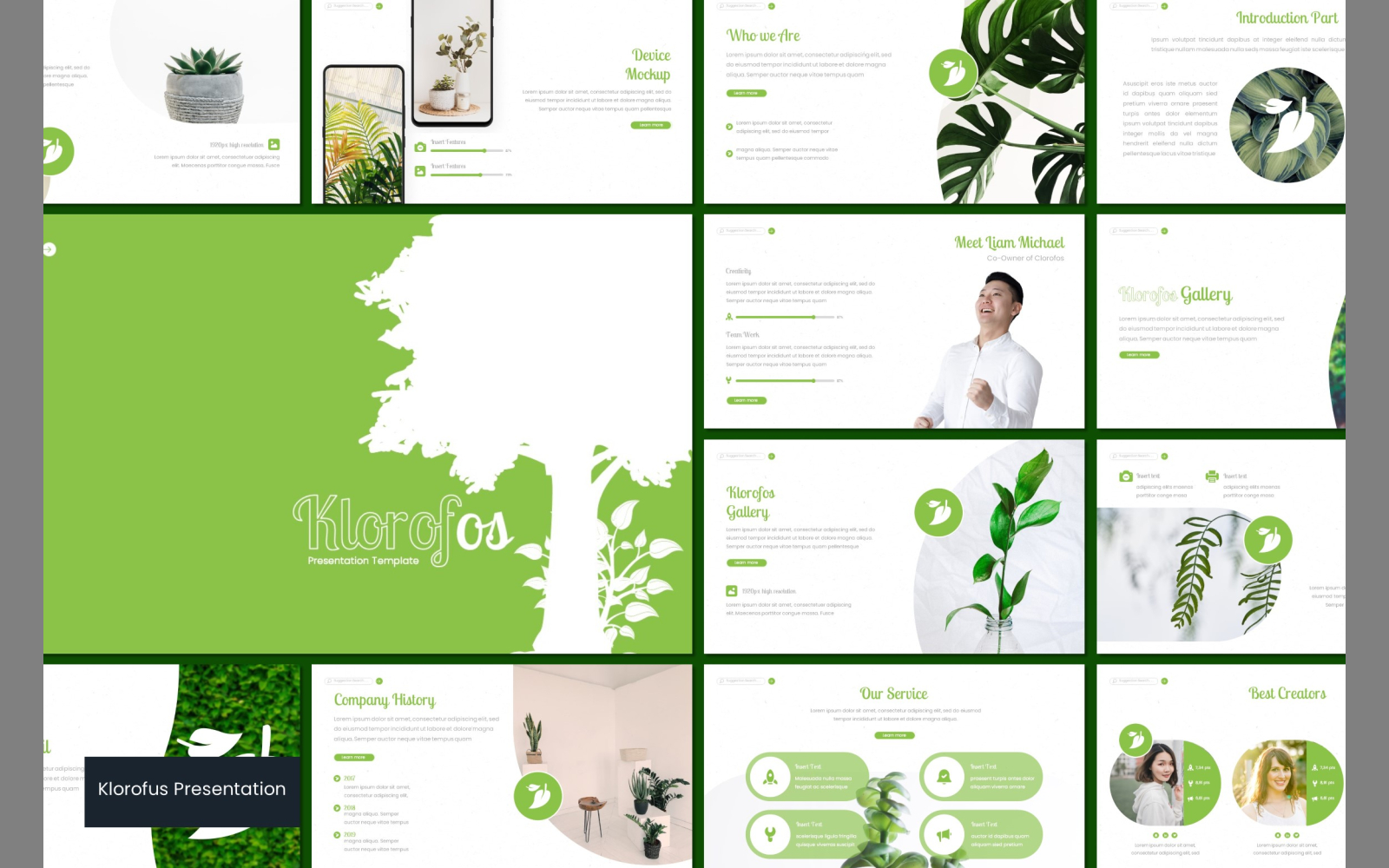 This PowerPoint Template uses the organic shape of a butterfly with a ballerina as the theme of the design. This presentation can be used for business, media and advertising, design, brand marketing and personal presentation.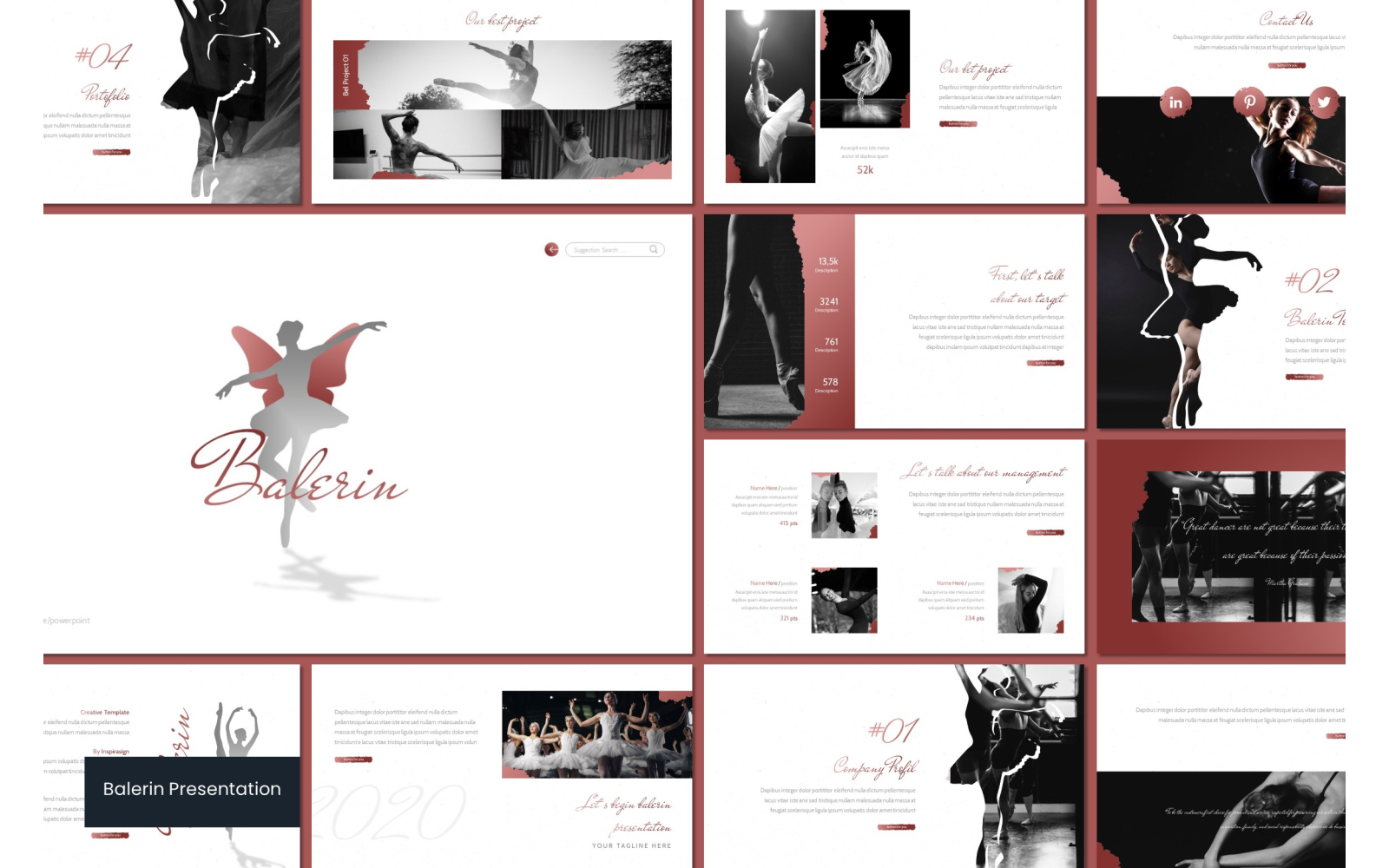 This PowerPoint Template is uniquely designed with organic shapes – cloud shapes merging with photographs of real birds, people and skylines and icons, which are abstract shapes, to create a very attractive design. 30 unique slides, fully editable, for creative, industry, business or personal use.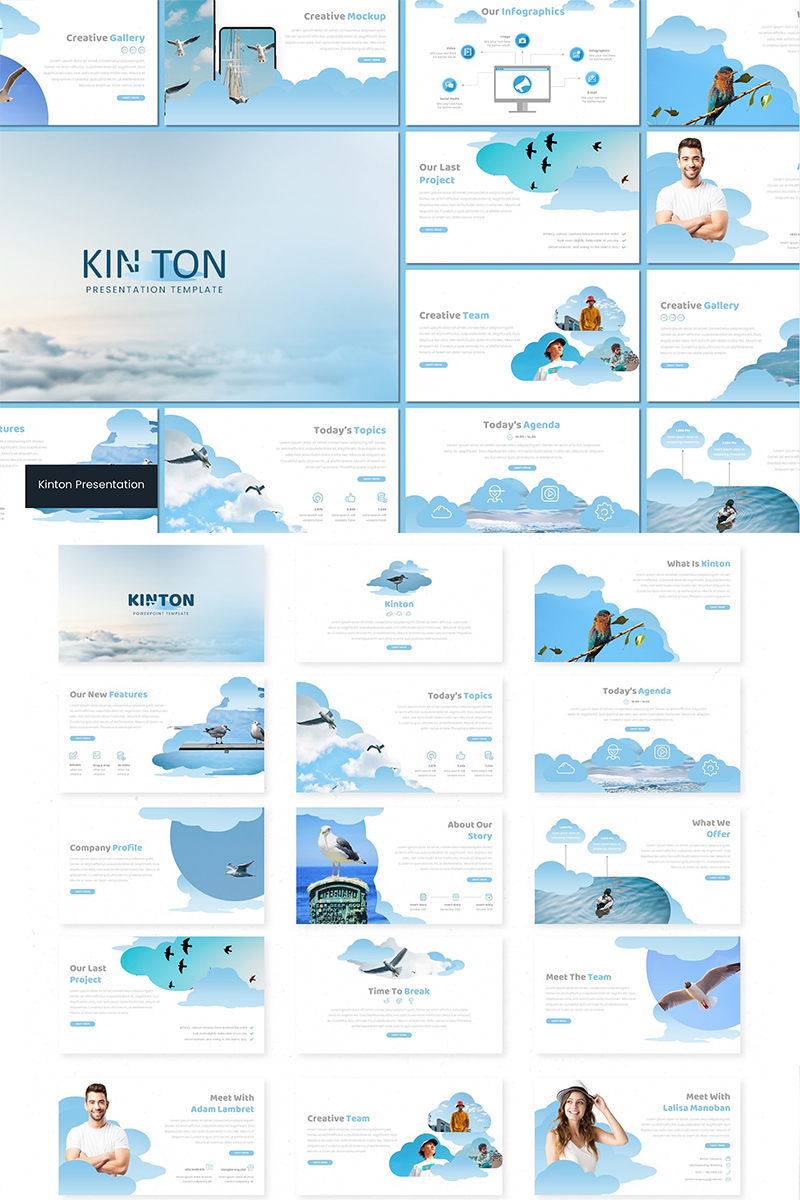 This presentation design uses organic shapes representing the human body merged with images representing healthcare. It is a minimalist, professional and unique presentation template for healthcare, medicare, pharmaceutical company, marketing or creative studio or personal presentation.
Animals PPT PowerPoint Template
Modern – Business Google Slides
Water splashes and ripples in organic shapes merged with images are used along with graphics in this modern, creative business presentation with free-flowing appeal.   Use for a business presentation, creative studio, marketing or commercial enterprise or a personal presentation.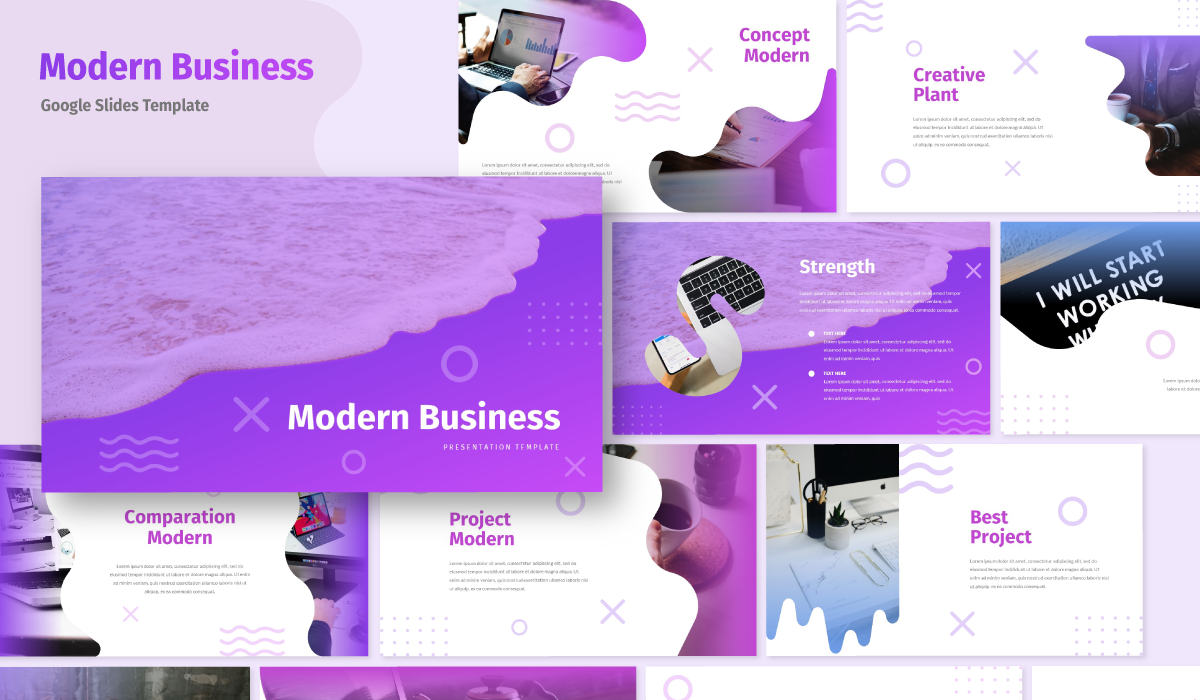 Flora 13.12 PowerPoint Template
Abstract Shapes
Abstract shapes are depictions of real things without being exact representations. An example of an abstract shape is a stick figure, which represents a person. The icons we see in street signs, on our phones and in web design, are abstract shapes that we can easily recognize.
Abstract shapes in presentation design
The logo in the shape of a stylized sun is a recurring motif in the theme of this stunning PowerPoint Presentation using abstract art depicting the power of the sun in golden yellow. 30 unique slides, fully editable, for creative, industry, business or personal use.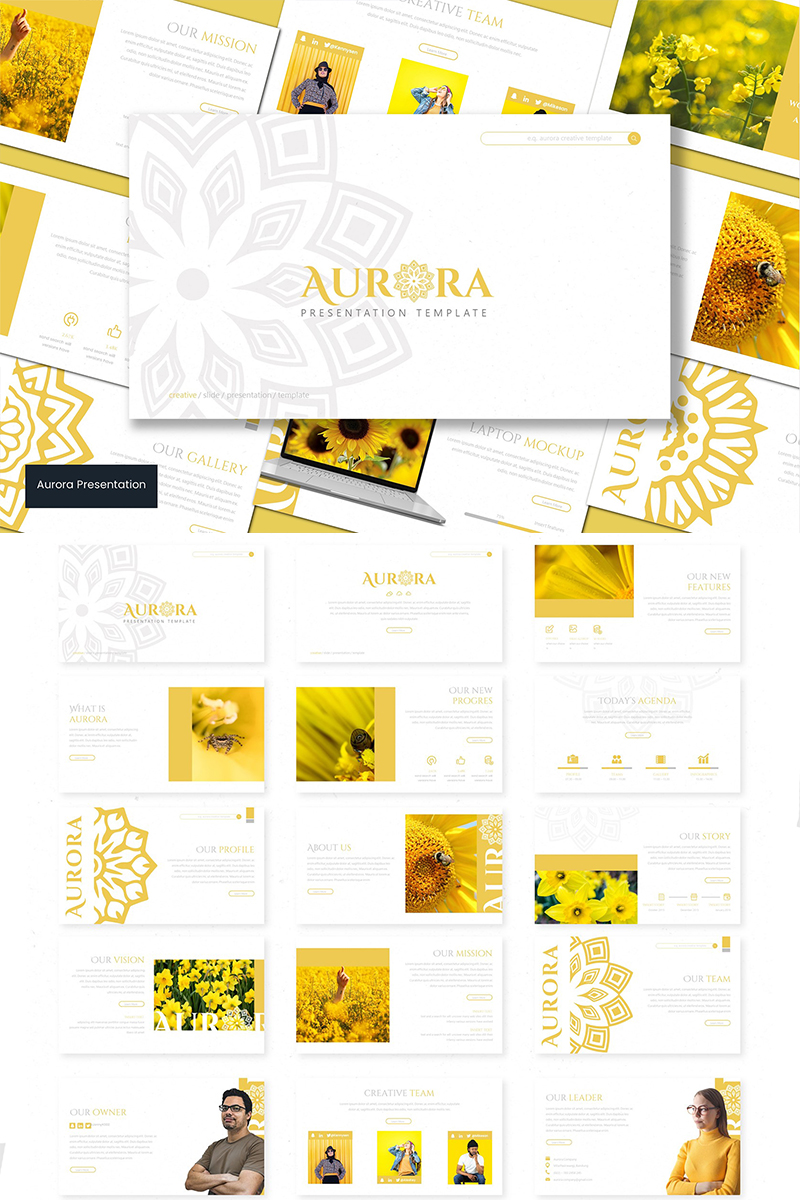 Luminate – Creative PowerPoint Template
This is a PowerPoint presentation template with a  unique look, using abstract shapes. It has 30 slides, dark and light slides, with all graphics resizable and customizable.  11 extra color schemes. Use it for your own portfolio with creative style, for a graphic design agency, IT Company, or a business portfolio.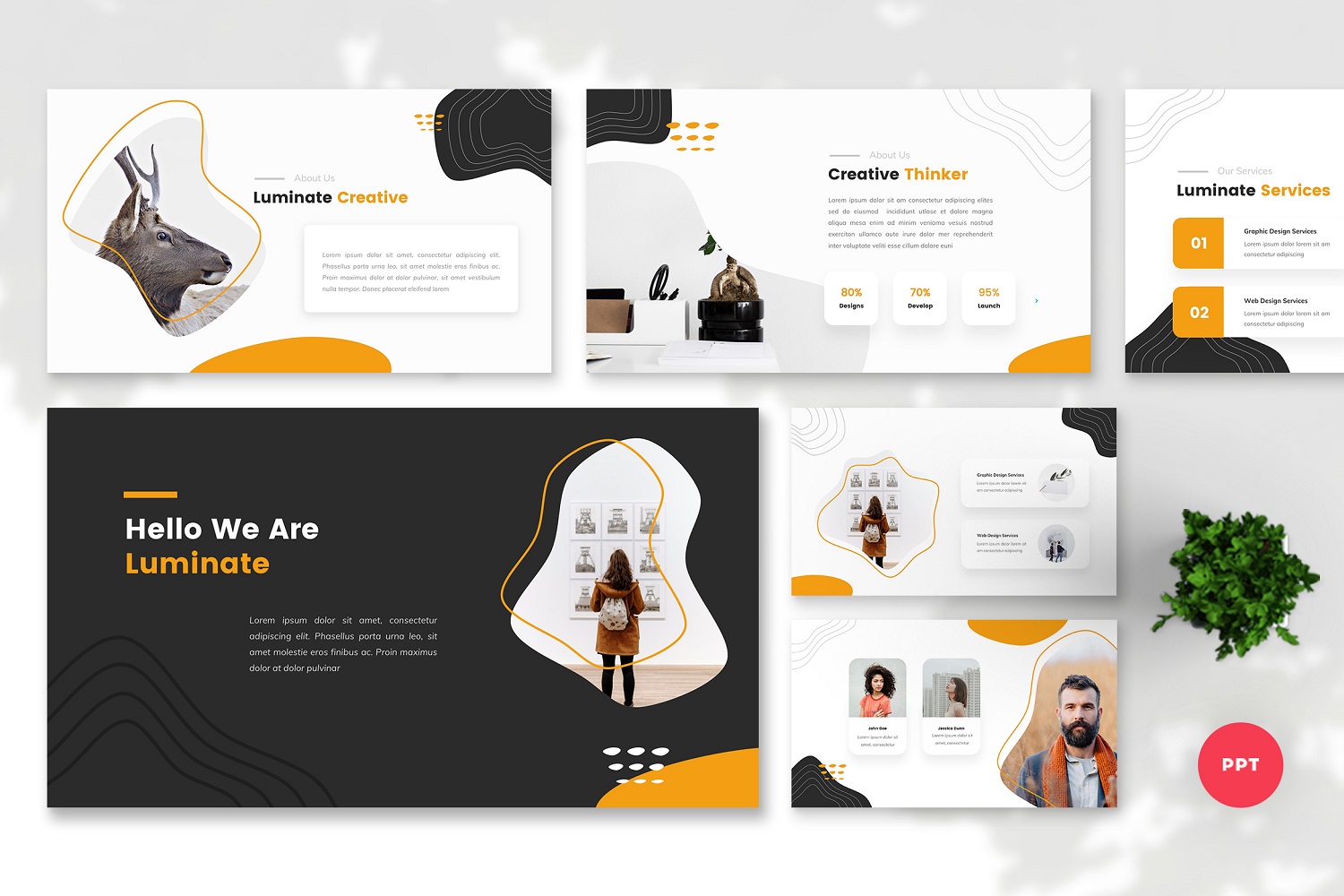 Painting | PowerPoint Template
Abstract shapes with painting styles.
Wave forms in abstract shapes.
Infographics
According to the Oxford English Dictionary, an infographic (or information graphic) is "a visual representation of information or data". An infographic is a collection of imagery, charts and minimal  text used in an engaging way to communicate an overview of a topic. Infographics are also called data visualization.
Infographics can use a combination of geometric, organic and abstract shapes in their design along with text and images as they communicate quickly and effectively since people are familiar with them.
Infographics in presentation design
Comprehensive Pack PowerPoint Template
Abstract shapes, some with a 3D look, communicating concepts, are included in the infographics in this PowerPoint Template for any kind of corporate  or business presentation for a commercial enterprise or industry.  The Comprehensive Pack reduces your work by supplying templates designed with busy entrepreneurs in mind. With 457 fully editable slides, the Pitch Deck Bundle provides you with the template you need to deliver a strong pitch. Slides feature charts, graphs, customizable infographics and over 3500 professional vector icons.
90 color themes are included in this pack, for One Click changes to the colors of shapes, icons and fonts.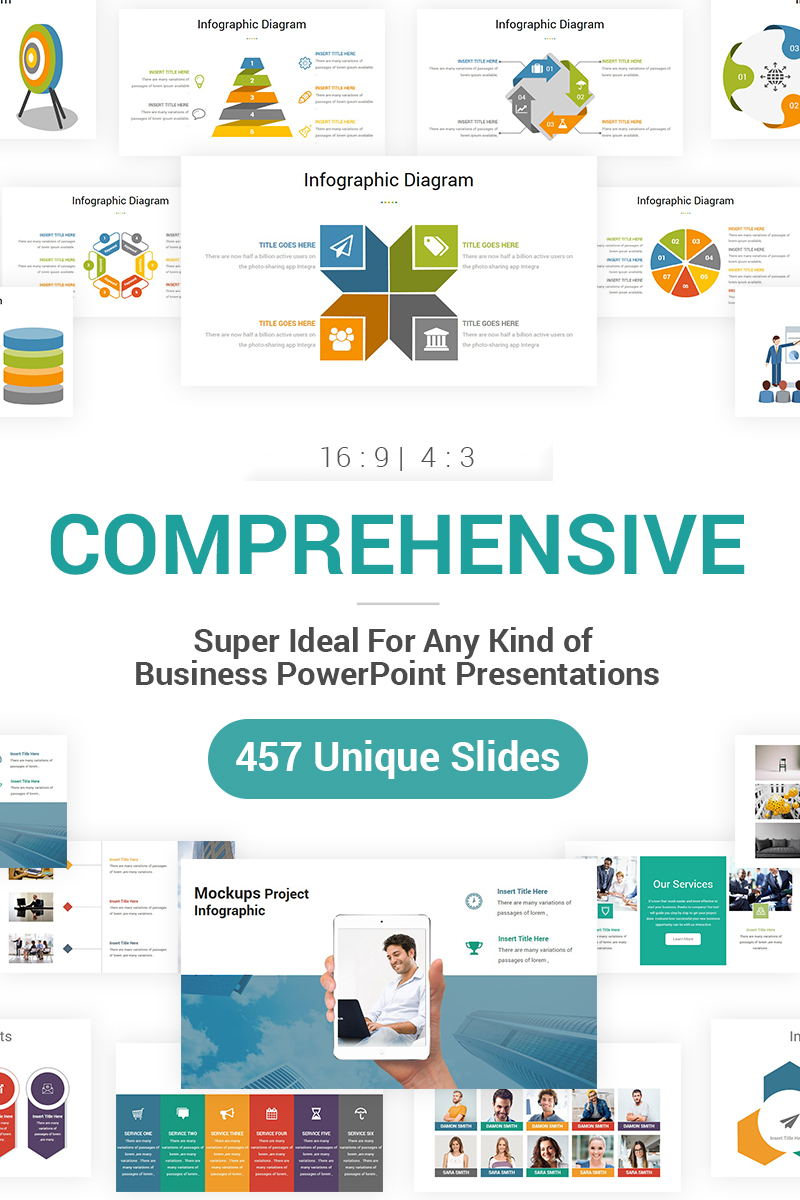 3D Cube Infographics vol.2 PowerPoint Template
Creative Cube Set of charts comes loaded with abstract geometric shapes of iconic cube infographics and amazingly detailed 3D icons which are fully editable. This set contains 9 multiple-use charts along with 11 unique cube graphics to choose from. These 3D charts can be used to represent different business strategy and marketing models in a simplified form which make it interesting to understand and explain.   Set of 12  pre-animated slides, both pptx and ppt are available,  in 16:9 aspect ratio.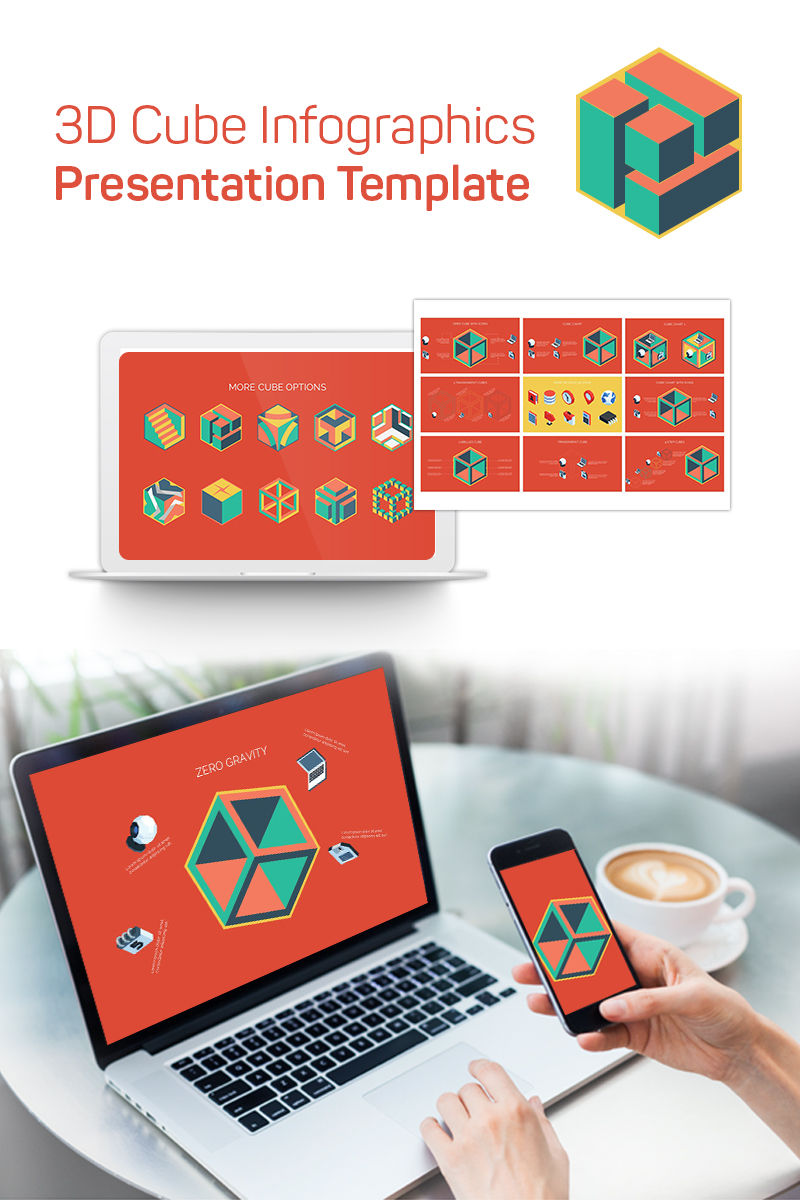 Big Bundle PowerPoint Template
All kinds of infographics for all kinds of presentations!  Big Bundle PowerPoint Template gives you big value with a 13 in 1 bundle of 900+ slides. Includes vector graphics, print friendly, 16:9 aspect ratio. Change colors with a single click. Custom branding possible. Mobile editable.  Use it for any industry or business , media and entertainment, environment, corporate, marketing and branding presentations, professional or personal  story presentation,  logistics, HR, women empowerment, and more.
List of Products
 This 13 in one bundle contains 900+ slides:
Corporate Life Presentation Template
Corporate Functions PPT Template
Human Emotions Illustrative Template
Smart Technology PowerPoint Template
Happy People Infographic Template
Doodle Infographic Template
Profession Infographic Template
Mega PowerPoint Dashboard Creator
Logistics PowerPoint Infographic Set
Mega Environment PowerPoint Pack
My Life PowerPoint Template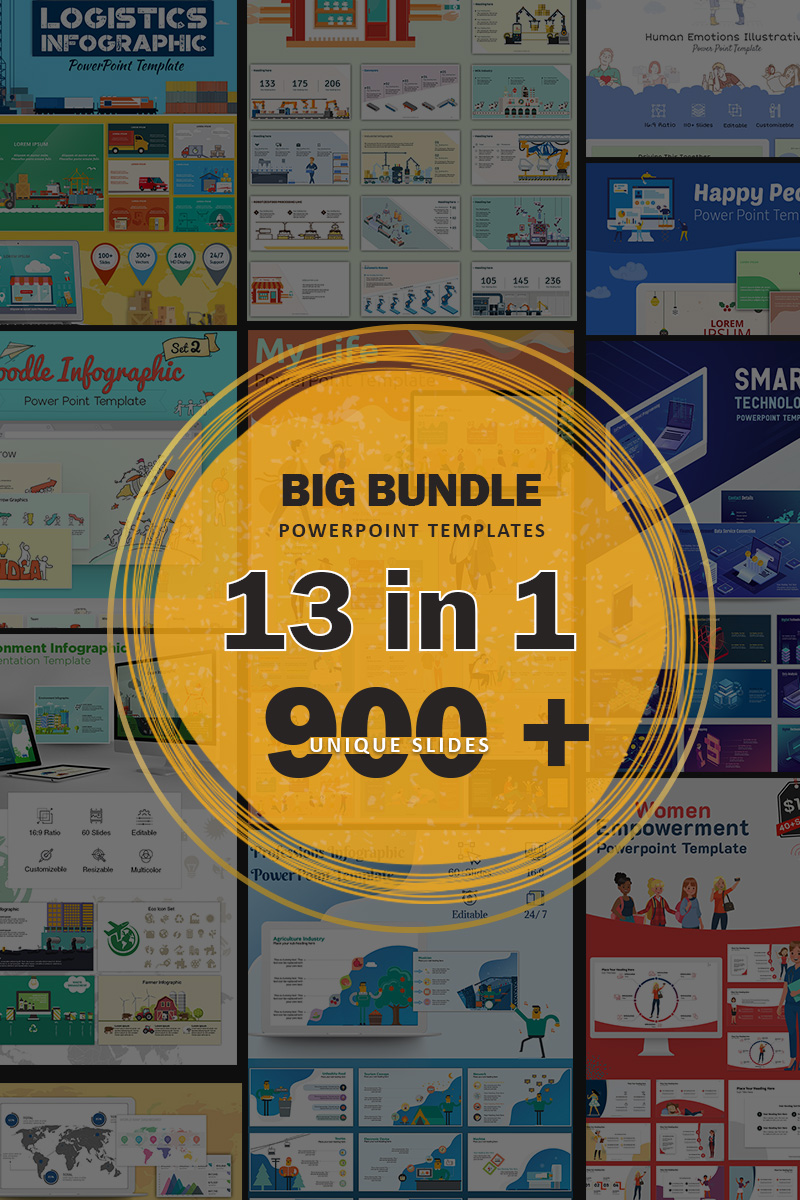 Combination of abstract and geometric design
Mixart Multipurpose Creative PowerPoint Template
Combination of abstract, geometric and infographic design
Grow Business Keynote Template
Abstract and geometric shapes are used in this attractive Keynote template which includes
slides, charts, tables, infographics, maps  icons and a vector graphic. All shapes, graphics, colors, fonts, sizes, vectors and icons are fully editable. Use it for your commercial enterprise, entrepreneurial business or personal presentation.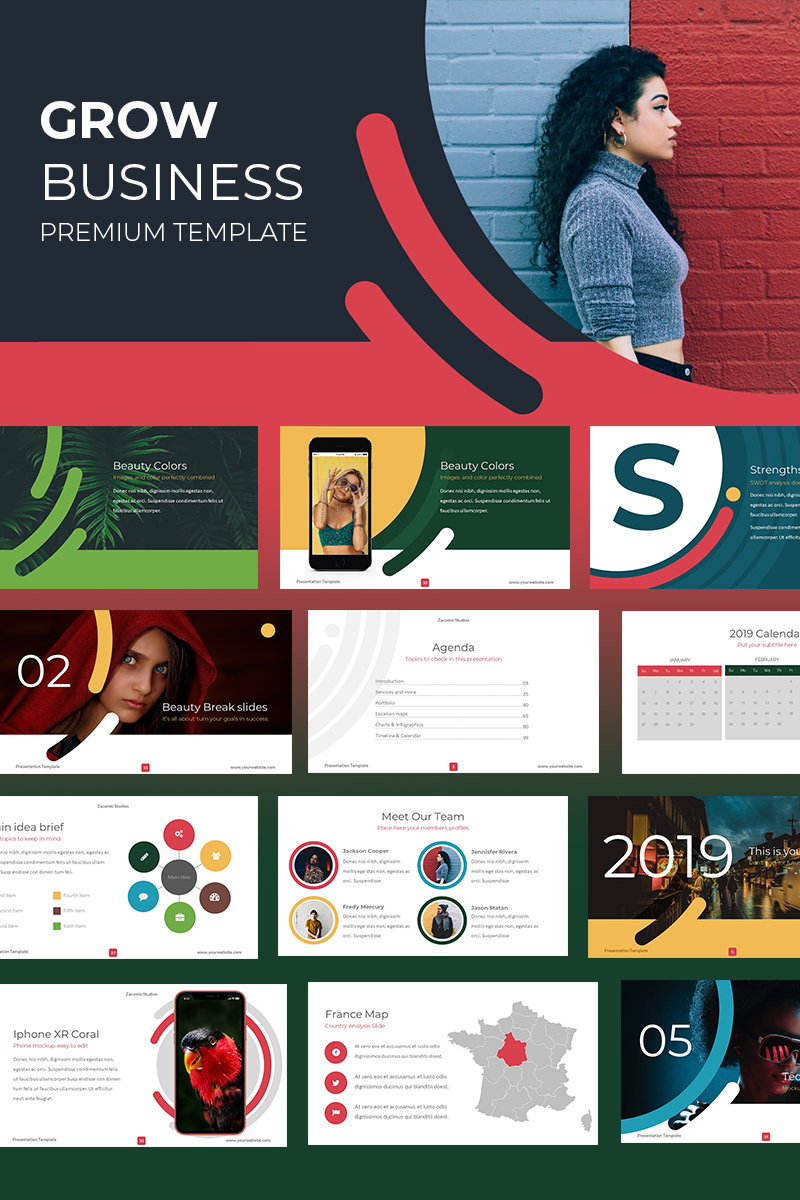 To sum up:
Geometric, organic and abstract shapes can be used separately or in combination to create striking designs to make your presentation communications more impactful. Infographics often combine different shapes with images and text to communicate ideas and concepts.
Shapes can be used effectively in design to:
Design navigational elements
Connect or separate elements
Lead the eye from one element to the next
Create backgrounds
Focus on or accent key points or areas
Act as Calls to Action (CTA)
What's your next design idea?  Shape it up!
Check out our exciting range of products here!
Useful Resources