Design trends come and go, and you need to know which ones are here to stay and which ones will go away quickly. If you don't have much design experience, it can be challenging to decide on what design trends to follow and which ones to ignore. We want to help you with that, so we have written this article to guide you through creating a more gender-neutral design.
Whether you have designing experience or are entirely new to it, reading this article will give you valuable tips to use when creating your designs.
What Is Gender-Neutral Design?
The gender-neutral design looks past traditional design and the way it portrays gender. For a design to be gender-neutral, it needs to look beyond the traditional gender roles and identity. This type of design is about inclusivity and equality, and it embraces everyone, no matter who they are. According to this company, more web designers are opting for this approach.
1. Gender-Neutral Colors
If you look at gender-neutral designs, you will notice that they use specific colors and avoid using others to achieve their look. This is important as gender-neutral designs need to use distinct color palettes and designers need to consider these colors carefully. Designers need to break the gender stereotypes regarding specific colors, pink being for girls and the color blue for boys.
Gender-neutral colors are usually minimalistic and more muted. The use of the color pink and blue are avoided most of the time, but if they are used, it'll be in hushed tones that people don't associate with gender. Gender-neutral colors are yellow, black, gray, white, green, and orange. Gender-neutral colors tend to be muted in tone.
2. Choosing The Typography
The typography you choose can be associated with gender, so you need to choose carefully. If you don't know how to decide on the right typography, you can use online resources to find the best one for what you need or get help from a San Francisco design consultancy.
If you have a thinner and cursive font, then this has a feminine connotation. Fonts that are bolder, sharper, and aren't cursive have a masculine sense. This is how you can separate the two different types of fonts from each other.
The most popular gender-neutral font is Helvetica. So if you are having trouble choosing one, you can use Helvetica. Depending on what variation of Helvetica you use, a thinner version of the Helvetica will be seen as feminine, and the bolder variation will be seen as masculine. This is the same for all fonts, so you need to take care in making a decision and using your chosen font in your designs.
3. Gender-Neutral Images
When using images in your design, you need to make sure they are inclusive of all audiences and don't associate with the stereotypical gender roles and identities. If you want to use imagery of a group of people, you need to ensure that the image represents a group of people and isn't predominantly one group or gender.
If you need help with gender-neutral imagery, you can get help from design firms. Don't just use any image you want; you need to choose carefully. The images you use should support your design and make it better; they shouldn't just be used for no reason.
4. Using Icons In Your Designs
Icons have similarities with typography when creating gender-neutral designs. Icons that are thinner and have curved lines will be seen as feminine, and icons with bolder and straight lines will be seen as masculine. This might not sound important, but people make these connections when looking at designs, and you need to know this before deciding on your designs.
The color of your icons matters; you need to use gender-neutral colors. Follow the color palette you have chosen to keep your design consistent. If you don't do this, the design will look messy and cause people to stop using your product. 
5. Using Gender-Neutral Words
You must have seen these words used by famous brands on their products. For example, popular clothing brands use the word 'unisex' to describe clothes that anyone can wear, no matter their gender. Using these words will help make your design inclusive and welcoming to everyone.
These types of words need to be backed up by the right imagery. Don't use the word 'unisex' but show models of only one gender when displaying the product. You need to be consistent and thoughtful when putting your gender-neutral design together.
Conclusion
Gender-neutral design is a combination of different elements in your design. All of the various factors need to work together and complement each other to create a gender-neutral design. If one element isn't consistent with the rest, this will ruin the design.
This type of design is becoming more popular, so incorporating it into your product and brand will help you get more people's attention. Not only that, but using this type of design will be inclusive of more people, which will help your brand be seen.
Here are some examples of gender-neutral website designs.
Dex Interior Design & Architecture HTML5 Template
Coffee – The Coffee & Food Premium Shopify Theme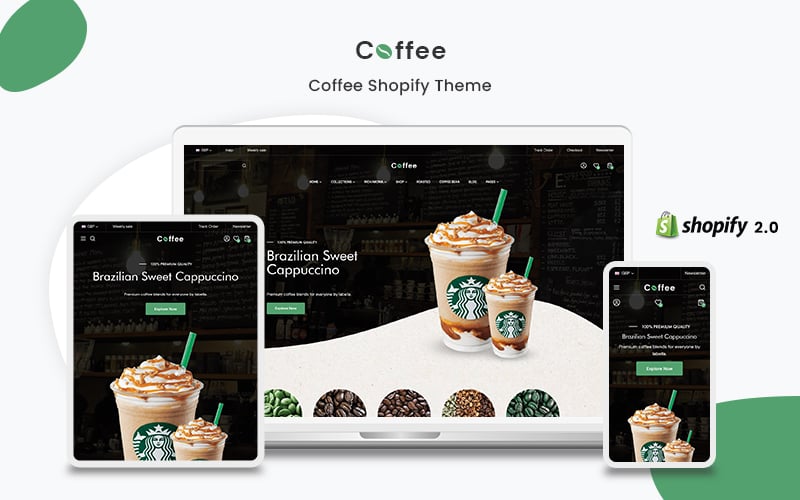 Earthen – Pottery and Ceramics Handmade PrestaShop Theme